Scrumptious blueberry and almond slice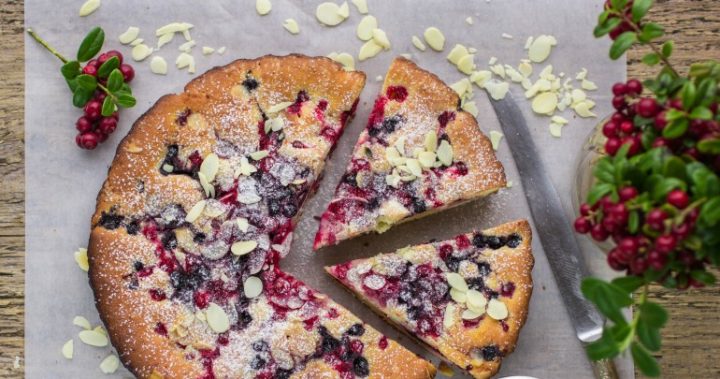 This scrumptious blueberry and almond slice is delicious and super easy to make! Combine oats with fresh fruit to create the perfect afternoon treat.
This amazing recipe includes oats, cinnamon, apple, blueberries and cranberries, topped with almond and icing sugar.
Depending on what's in season, you can substitute the fruit to your liking. Enjoy with a cuppa and dig in!
Ingredients
1/2 cup rolled oats
1/2 cup almond kernels, finely chopped
1/2 cup self-raising flour
1/2 cup plain flour
2 tbsp caster sugar
1 tsp ground cinnamon
1 large pink lady apple, grated
2 eggs
1/3 cup extra virgin olive oil
1 tsp vanilla extract
1/4 cup frozen blueberries
1/4 cup frozen cranberries
Icing sugar to sprinkle
Method
Preheat oven to 180°C.
Grease a round pan, line with baking paper (base and sides).
Reserve two tablespoons each of oats and almonds.
Place remaining oats and almonds, flours, sugar, cinnamon and apple in bowl. Stir to combine.
Lightly beat one egg then add to bowl with oil and vanilla. Stir to combine.
Fold in blueberries and cranberries.
Spread mixture into prepared pan.
Lightly beat remaining egg and brush slice.
Sprinkle with reserved oats, almonds and icing sugar.
Baking for 30 t0 35 minutes.