Banana bread with a twist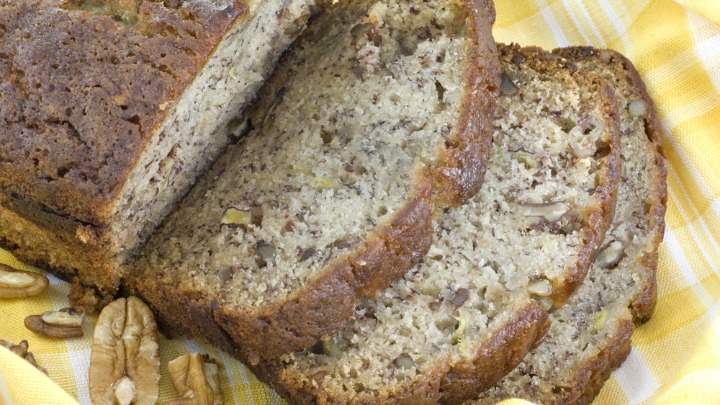 There are so many different versions of banana bread and this one is up there as one of the all-time greats! It's rich and moist – just like you'd want your banana bread to be – but has a few little extras to really take it to the next level. Pecans add a lovely crunch, whole dates and mixed spice brings a warmth to the flavour. The real kicker though is the splash of rum, which creates a banana bread like you've never had before. You have to give it a go!
Ingredients
250g pack stoned, ready-to-eat date
2 small or 1 large banana (140g/5oz in weight)
100g pecan, 85g/3oz roughly chopped, rest left whole
200g raisin
200g sultana
100g fine polenta
2 tsp mixed spice
2 tsp baking powder (use gluten-free if needed)
3 tbsp dark rum
2 egg white
Method
1. Heat oven to 180C. Line a 900g/2lb loaf tin with non-stick baking paper, using a little oil to make it stick. Put the dates into a small pan with 200ml boiling water and simmer for 5 mins. Drain the liquid into a jug, then put the dates into a food processor. Add the bananas and 100ml of the date liquid and whizz until smooth.
Ad. Article continues below.
2. Mix the nuts, dried fruit, polenta, spice and baking powder in a bowl, then add the date purée and rum, and stir until combined.
3. Whisk the egg whites to soft peaks and fold into the cake mix. Tip into the tin (it will be quite full), then top with remaining pecans.
4. Bake for 1 hr until golden and crusty and a skewer comes out clean. Cool completely before cutting into slices.
—————————————————–
If you'd like to see more recipes from Starts at 60, click here. And if you have a recipe you'd like to share with the Starts at 60 community – we'd love to share it! Submit them to us by completing the form below.
Submit your article here