Authentic Indian beef curry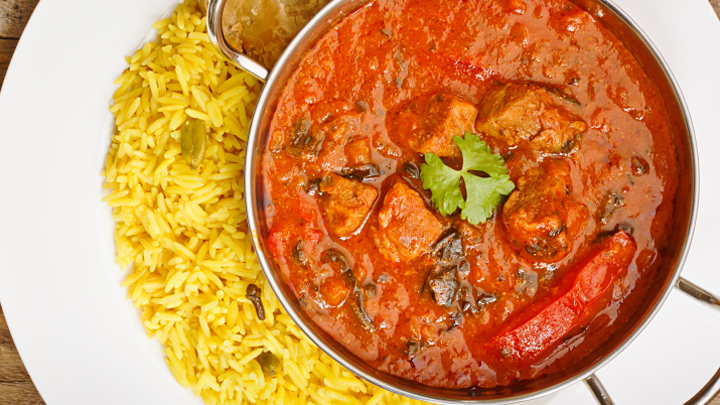 This curry is easy to make yet still loaded with great flavours. It will make your taste buds stand to attention with the mixture of spices. Your kitchen and home will be filled with wonderful aromas of Indian cuisine.
Ingredients
Serves 4
2 tbsp ground coriander
1 tsp ground cumin
1 tsp turmeric
1/2 tsp freshly ground black pepper
3 crushed garlic cloves
2 tsp grated ginger
2 1/2 tsp lemon juice
2 tbsp olive oil
1kg chuck steak cut into 2.5cm cubes
2 tbsp tomato paste
1 cup beef stock
1 tsp chilli powder (optional)
Coriander, mint and sliced red chilli to service
Basmati rice to serve
Ad. Article continues below.
Method
Prep: 20 minutes 
Cook: 2 hours
Combine coriander, cumin, turmeric, chilli, garlic, pepper, ginger and lemon juice to form a paste; set aside.
Heat 1 tbsp of oil in large pan over high heat. Add half beef; cook and stir until browned. Repeat with remaining oil and beef.
Reduce heat to medium, add spice paste and cook for 1 minute. Return beef to pan, cook and stir for 1 minute or until meat is coated with paste. Add tomato paste and stock; bring to boil. Then reduce heat to low and cover.
Cook for 1 hour 45 minutes or until beef is tender.
Remove lid, uncovered for another 15 minutes or until sauce has reduced and thickened.
Served with basmati rice. Top with mint, coriander and fresh chilli (optional)
Ad. Article continues below.
You can make it as spicy as you'd like by adding more chillies. 
Tell us, do you like curry? What is your favourite curry recipe?