TV host ignites feud with Jane Fonda over plastic surgery questions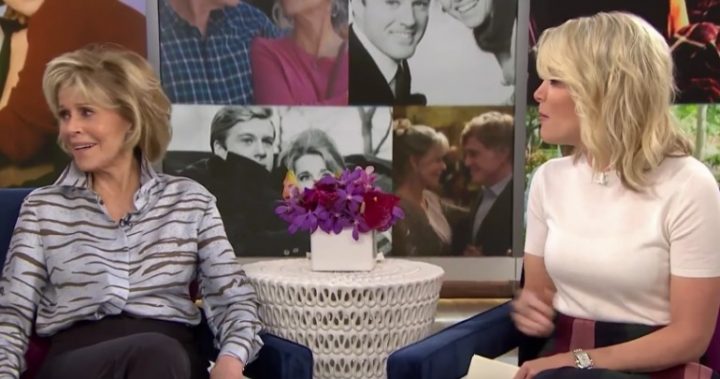 Jane Fonda may not be happy about being asking her about plastic surgery, but one TV host has defended her right to quiz the 80-year-old about her appearance.
Jane became annoyed when high-profile US TV host Megyn Kelly questioned her about getting work done, and four months after the interview, it clearly still rankles Fonda so, when asked about it at the weekend, Jane slammed Megyn and her questioning. Speaking to Variety, the Monster-In-Law star said: "It wasn't like I was upset. I was stunned. It was so inappropriate. It showed that she's not that good an interviewer."
Fiery Megyn, who has been in the business for years and was long one of Fox New's biggest stars, was never going to take that lying down. And sure enough, she called out Jane on a new episode of her own daytime TV show, NBC's Megyn Kelly Today.
"When she first complained, publicly, after the program, and repeatedly, I chose to say nothing," Megyn said of Fonda's comments. "What other people think of me is none of my business." But after Jane continued to slam the interview, Megyn told the audience that it was time to address the issue once and for all.
Ad. Article continues below.
She explained that the original interview had been done to promote a film about ageing. (Fonda starred in Our Souls at Night, about a widow and widower who find love late in life, with Robert Redford.)
"Well, the truth is most older women look nothing like Fonda, who is now 80," Kelly went on, as a photo of Jane was displayed on screen. "And if Fonda really wants to have an honest discussion about older women's cultural face, then her plastic surgery is tough to ignore."
The 47-year-old suggested that Jane knew this, and also claimed that the film star had openly discussed her cosmetic procedures everywhere before appearing on the Today show. Kelly then presented viewers with a montage of the many times Jane had discussed her appearance in the public.
"I gave her the chance to empower other women young and old on a subject that purports to know well and she rejected it," Megyn suggested. "That's ok. But I have no regrets about that question. Nor am I in the market for a lesson by Jane Fonda on what is and is not appropriate."
Megyn then went on what some said was a strange departure in argument, pointing out Fonda's treatment of the US military during the Vietnam War and noting that that removed Fonda's right to be offended. "So the moral indignation is a little much, she put her plastic surgery out there, she said she wanted to discuss the plate of older women in America and honestly, she has no business lecturing anyone on what qualifies as offensive," Kelly concluded.
Ad. Article continues below.
The TV host's diatribe divided viewers, who weren't too sure which side to take on the debate.
One person commented: "I am not a big Megyn Kelly fan …. but … she is right on this issue. Jane Fonda wants us to forget about all the negative things she said about our guys fighting that war, and there is no statue of limitations in the court of world opinion about the things she said".
Another added: "Much ado about nothing. Nothing inappropriate in Megyn's question at all. Don't know why it's resurfaced today, after nearly four months." A third said: "Megan Kelly is absolutely right on all of these issues! Good on Megan for asking! And even better for Megan for calling Fonda out on her past. Fonda has no right to be lecturing Megan Kelly on what is appropriate. Personally I think Fox made a mistake for letting her go."
Others didn't agree, however, with one viewer saying: "I was with her till she brought up the Vietnam stuff. Like. Girl. No. Where do you think you are? Fox News? This is so absurd." Another added: "Megan Kelly your interview with Fonda was terrible. You are not a very kind person."
What do you think? Should reporters be able to make comments about people with plastic surgery, or should the topic be off limits?
Ad. Article continues below.
---
With Facebook removing news sites from your feeds we ask that you sign up for Starts at 60's emailers here. And to keep us on your wall, join some of our new Facebook groups and clubs:

News Junkies Club – Australia
News Junkies Club – USA 

See news on the change and links to all our other clubs and groups here.