Psychic John Edwards 'contacts' Princess Diana from beyond the grave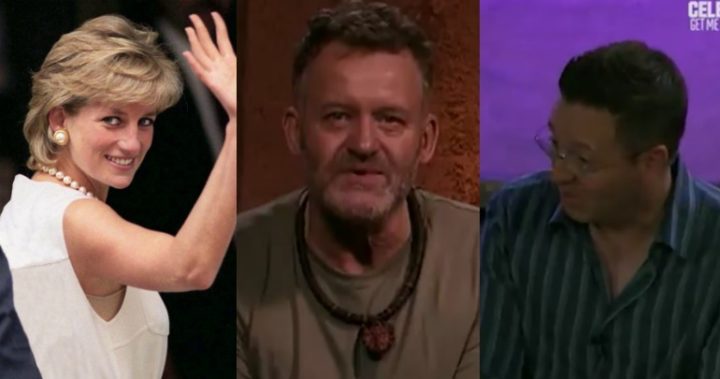 Paul Burrell has been making headlines ever since he was dropped into the African jungle as part of this year's I'm A Celebrity…Get Me Out of Here!, but fans are divided over an episode that aired last night.
Celebrity psychic John Edwards made an appearance on the hit Channel 10 show and offered to give the remaining contestants a reading. Edwards is famed for contacting people who have died and connecting them with the living. He has toured the world with sell-out shows and had a hit program, Crossing Over with John Edwards, in the early 2000s.
During Wednesday night's episode of I'm a celebrity, he did a reading for Burrell, who was famously Princess Diana's butler before she died. From all accounts, Edwards appeared to be speaking with the late Princess.
"So if you have a friend that passed in a vehicle accident. Okay…were there two car accidents?" he asked Burrell. "Because I'm feeling like there are two car accidents, almost like one was foreshadowing and the other one was like, tragic. Yes?"
Ad. Article continues below.
Burrell looked utterly shell-shocked by what he was being told. "You couldn't possibly know that," he told Edwards. "He reached inside me and rang a bell."
Edwards later asked Burrell why he moved or changed a photo, to which he replied, "that's personal". Edwards continued to push, asking him if he understood why he moved the photo in question. "I did it to protect someone," he said.
Edwards replied: "I feel like I'm supposed to say, 'You moved the photo. Why did you do it, or acknowledge the fact that it was done'.
"He told me things which he couldn't actually know," Burrell said of the reading. 
Ad. Article continues below.
Edwards later sensed that he was in a bedroom with wood panels and books. He explained that he saw a piano to the side and a small glass bird. Burrell claimed they were details Edwards couldn't know and said he was describing Princess Diana's bedroom. "He could not have known about a glass lalique bird in the princess' room. Impossible."
The psychic then suggested that Princess Diana and Burrell had a joke about using foul language and even brought up her favourite pastime of needle pointing. "Your friend wants to tell you that the dream where she came to you in the royal blue dress was real," he continued.
Burrell said he regularly has a dream of himself sitting alone with Princess Diana and that she does wear a blue dress in that dream. "It's the last dress I saw her in," he said. "I've never told anybody about that particular dream."
Edwards later suggested that Burrell was concerned that Prince William and Prince Harry weren't going to know the real stories of their late mother. "I'm supposed to acknowledge that when we lose someone, sometimes that passing becomes what people define them as and it's like no, you need to honour who the person was, who your friend was, what they did, okay?"
The scenes divided viewers of the show, with some people believing Edwards had contacted Diana and others thinking it was complete rubbish. One said: "John's not a fraud, he's been doing this all around the world for years and he is so eerily correct in a lot if things. He brings closure, sadness, happiness and a feel good feeling to ppl. I believe cos I've had this done (not by John) and the things that were said have all come true. Makes me shiver [sic]".
Another added: "Nothing has convinced me to believe. Sorry to say. A lot of the information he came out with is known world wide".
What do you think? Should Diana be left to rest in peace? Do you believe in psychics, or is it all a bit of a joke?