Oscars stars caught in epic name mix-up 'to return to this year's bash'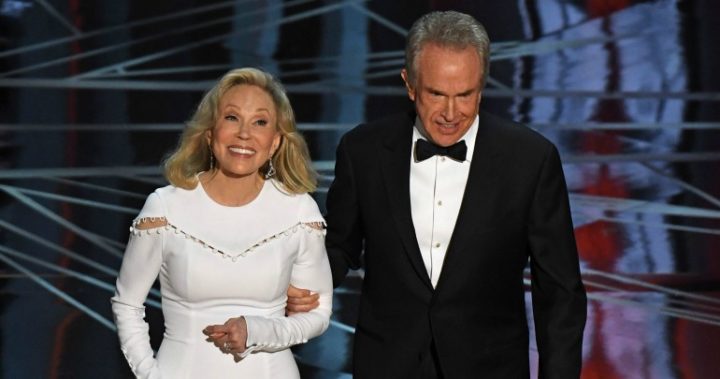 They were caught up in one of the biggest and most embarrassing blunders in Oscars history when they read the wrong name out for the Best Picture award in 2017 – but it's now claimed Warren Beatty and Faye Dunaway will return this year to give it another go.
According to TMZ, the Bonnie and Clyde stars have been spotted rehearsing at the Dolby Theatre to present the same category this Sunday, sparking rumours they're fixed for the spot – although their lines are still to be confirmed.
The pair made history at last year's Academy Awards as they announced La La Land as the winner instead of Moonlight, after being handed the wrong envelope. Realising the mistake too late, La La Land producer Jordan Horowitz then had to awkwardly hand over the award on stage – in front of the shocked crowd.
Host Jimmy Kimmel also came back onto the stage to help sort out the confusion, saying it was a "really unfortunate" mistake, before Beatty explained that the envelope he opened said 'Emma Stone, La La Land' – Stone won Best Actress for her role in the film – and that he suspected he had the wrong envelope.
Read more: And the winner is…. La La Land… ooops, no it's not!
Ad. Article continues below.
"That's why I looked at Faye for a really long time," Beatty said at the time. "I wasn't trying to be funny."
PricewaterhouseCoopers, the company behind making sure the results are a closely guarded secret, later took the blame, and released a statement explaining what had gone wrong.
"We sincerely apologise to Moonlight, La La Land, Warren Beatty, Faye Dunaway, and Oscar viewers for the error that was made during the award announcement for Best Picture. The presenters had mistakenly been given the wrong category envelope and when discovered, was immediately corrected. We are currently investigating how this could have happened, and deeply regret that this occurred.
Read more: Oscars mix-up explained, with apology issued
Ad. Article continues below.
#Oscars voting has ended. Now we wait. pic.twitter.com/SPko5E5ofd

— The Academy (@TheAcademy) February 28, 2018
"We appreciate the grace with which the nominees, the Academy, ABC, and Jimmy Kimmel handled the situation."
Backstage Moonlight director Barry Jenkins made a point of thanking the La La Land team for being "gracious," while Emma Stone praised Moonlight, calling it one of her favourite films of the year. Elsewhere at the Governors' Ball, Moonlight producers Adele Romanski and Jeremy Kleiner and director Jenkins all converged on La La Land producer Horowitz to hug and thank him for being so cool about what was a fraught and disappointing conclusion for La La Land. "It was chaos," Horowitz concluded. 
Starts at 60 has contacted the Oscars for comment.
Do you think they should return to the stage to have another go following the error?