Meryl Streep laughs off 'senior moment' in funny TV quiz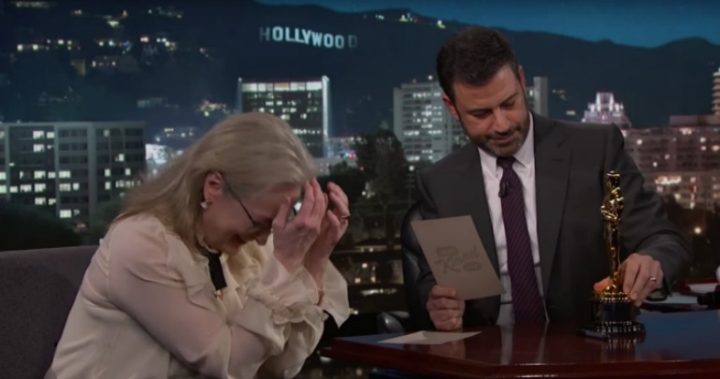 She's one of the most celebrated actresses in the world but that doesn't mean that Meryl Streep knows everything about her own incredible movie career.
The 68-year-old star appeared on a recent episode of Jimmy Kimmel Live in America, where the show's host quizzed Meryl on her knowledge of her Oscar-nominated films.
The Sophia's Choice star has been nominated for 20 Oscars throughout her career and given that Hollywood's awards season is in full swing, Jimmy Kimmel decided to see how many of those movies she could name in a minute. Jimmy, who is set to host this year's ceremony, even suggested that he'd award Meryl with a bonus Oscar if she got them all right.
Meryl, who already has three Oscars to her name, happily participated in the game but t's fair to say that she didn't do too well. Off the bat, she noted The French Lieutenant's Woman, Kramer Vs. Kramer, Silkwood and Sophie's Choice, but it didn't take long for her to struggle to remember more.
"Oh God," she said, pulling her glasses off her face in a comedic fashion. "See, I can't remember last Thursday. I can remember the olden days."
Ad. Article continues below.
She remembered Out of Africa and nominated Cry in the Dark, but Jimmy quickly told her that it wasn't actually nominated for an Oscar.
"Why? Why was I not?" she joked. "I was robbed."
Meryl said that she couldn't even remember the first film that landed her an Oscar nomination, much to Jimmy's shock. "They say you always forget your first one, right?" he quipped.
The Deer Hunter was actually her first nominated film, prompting Jimmy to joke that he would quiz her again live at the Oscars.
Ad. Article continues below.
Fans quickly shared their reactions to Meryl forgetting most of her movies on social media.
One person wrote: "I think my new life goal is to have so many prestigious awards that I can't even remember them all."
Another said: "Imagine being this iconic? You've been nominated for so many Oscars for so many movies, you can't remember them all. She still wins though. She's Meryl Streep," while a third added: "She is a legend, she deserves the title – anyone who's seen even half of her movies would have to agree that she's massively gifted. She completely wins me over every single time I watch her act."
What is your favourite Meryl Streep movie? What's something about yourself that you should know the answer to, but probably don't?