'Family Feud' host loses it over town with 'inappropriate' name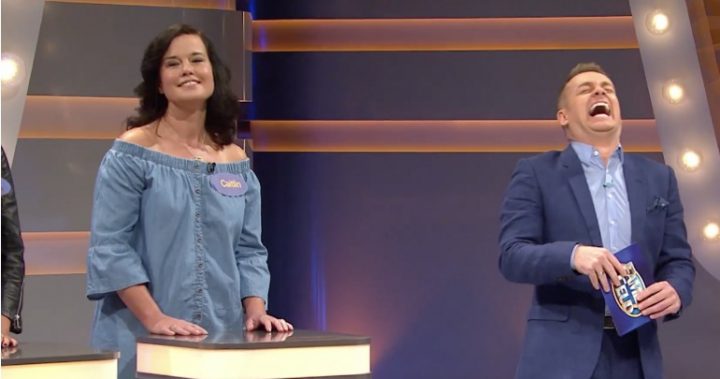 Most people across the country sit down of an evening to watch their favourite quiz show. From The Chase to Wheel of Fortune and The Price is Right, these shows have long been a stable part of evening TV. In Australia, Family Feud has been delighting families for years.
The show typically sees two families battling it out over a series of questions to win a prize. Grant Denyer, the host of the Australian version, is known for his charm and professionalism, but a resurfaced clip shared on the program's Facebook page shows the 40-year-old in hysterics over a slightly inappropriate name of a town.
Grant usually gets to know the contestants before they start the quiz, but it looks like he may have regretted asking this particular contestant where she was from.
The contestant, Caitlin, informed the chirpy host that she was from a town called Muff. The crowd erupted in laughter as Grant wasn't quite sure what to make of the unusual name.
Ad. Article continues below.
"Pardon?" he said, trying not to laugh. "The town was called Muff? Does that have the same meaning in Ireland?" The contestant, who kept a straight face, informed Grant that it doesn't.
Unable to let the name go, he went on to ask Caitlin what Muff was like. "Was it small?" he quipped.
"It was small and I actually went to school there," Caitlin said. "And the school was called Holly Bush." Grant, who didn't think the joke could get any funnier, thought Caitlen said Holy Bush.
"Holly Bush, in the town of Muff," he pondered. "What was the entrance to Muff like?" The crowd continued to laugh, while Caitlen suggested that there was a sign in the town that read "Welcome to Muff. You are now entering Muff."
The clip has been a viral hit since being uploaded to Facebook earlier this month, with more than 7.3 million views. Fans quickly left comments on the video, hailing it as one of the funniest moments in the show's history.
Ad. Article continues below.
One person wrote: "Grant can't keep a straight face!" Another comment read: "Love knowing the name of her school, especially knowing the town name." A third person from Ireland added: "I can assure you it doesn't have the same meaning in Ireland."
It comes after the host of the UK version of The Chase Bradley Walsh couldn't contain his laughter at the name Fanny Chmelar.
What is your favourite quiz show moment? What is your favourite game show to watch of an evening?
---
With Facebook removing news sites from your feeds we ask that you sign up for Starts at 60's emailers here. And to keep us on your wall, join some of our new Facebook groups and clubs:

News Junkies Club – Australia
News Junkies Club – USA 

See news on the change and links to all our other clubs and groups here.