Original cast return for reboot of Roseanne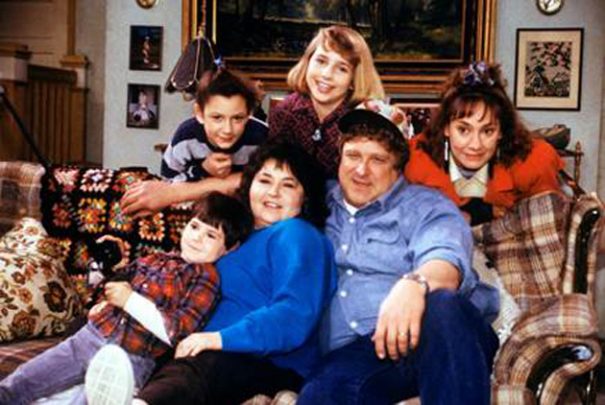 The much loved blue-collar family sitcom Roseanne is coming back.
Set for eight-episodes, the television series that featured larger than life couple Roseanne Barr and John Goodman and their 'white trash' family is back, and so is the original cast. Even Sarah Chalke, who played Becky later in the series, after Alicia Goranson left for college, is coming back, although she will play another role.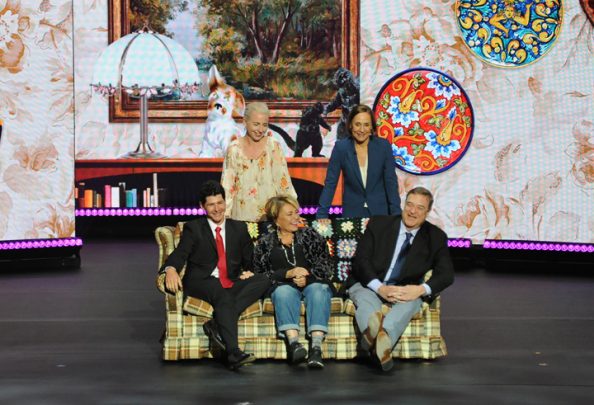 ABC released this first cast photo, taken today during the network's upfront presentation in New York City, with (front) Michael Fishman – DJ Conner, Roseanne Barr – Roseanne Conner and John Goodman  – Dan Conner (back) Alicia Goranson -Becky Conner and Laurie Metcalf – Jackie Harris.
If you have forgotten what the show was all about, this promo clip will certainly remind you.
Ad. Article continues below.
For those who watched the original series' finale, it was revealed the character of Dan had died of a heart attack. In the reboot he is definitely alive, so we are waiting to see how they deal with that. Barr, however, did write a blog post in 2009 that said she imagined Dad could have faked his own death if there was ever a reunion.
Deadline reported that when it premiered on ABC, the series broke new ground for its realistic portrayal of a working-class family, the Conners, barely scraping by in the fictional town of Lanford, Illinois. It also dominated the ratings as one of the highest-rated television series on the air for its near-decade run. A comedy about ordinary people who faced day-to-day survival with a sense of the absurdity of it all, the inimitable Roseanne was its epicenter. The Conner family will continue to deal with the economic challenges of living pay check to pay check in 2018. "The Conners' joys and struggles are as relevant – and hilarious – today as they were then, and there's really no one better to comment on our modern America than Roseanne," said ABC Entertainment chief Channing Dungey.
The new Roseanne will premiere in 2018.