Is it time for women newsreaders to make it to mature age on air?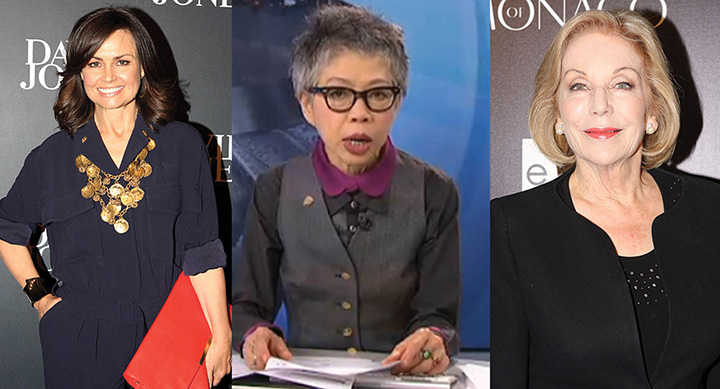 Lee Lin Chin has done it against all the odds, but can other women do it in commercial stations too? Lisa Wilkinson, at the age of 55 sure is giving it a red hot go. As are Caroline Jones, Jennifer Byrne, Geraldine Doogue, Ita Buttrose, Tracey Grimshaw, Liz Hayes, Sandra Sully, Melissa Doyle and Ann Sanders, all of whom are a part of our media and radio environments at an older age.
But others before them make the pathway to a more mature age in front of the camera look rather hard.
Chris Bath, for instance, who at 48 has chosen to fight or perhaps had her future chosen for her just a year or so after discussing the challenges of being a woman on television (dare I use the word older in this sentence).
During an appearance at a Women In Media conference in July last year, Ms Bath said there was the expectation for women to be 'televisually appealing' to keep their on-screen jobs. Now it appears she has disputed a reduction in salary and decided to leave.
Chris will relinquish her responsibilities with Channel Seven, handing over her card to 45 year old Melissa Doyle who is likely to host Sunday Night and other shows after famously being "boned" from her morning TV slot on Sunrise several years ago to make way for younger star Samantha Armitage.
But what makes media tick today seems to be changing a little… or perhaps I am just getting older and more appreciative of those who are a little more mature. Are you?
Ad. Article continues below.
All of these women we see in media are highly aesthetically visible… that is, they are impeccably groomed, and look the youthful yet mature ages they now grace. They are true intelligent role models on screen.  And until now, only few have been able to grace our screens at older ages. But perhaps, just perhaps, this could be the generation for change. You see I have a theory that the coming wave of Boomers doesn't want to see youth on the front of everything, and explore purely naïve media opinions. Today, I propose that the largest group of educated and informed media consumers in history, the Baby Boomer, grows that little bit older, there could be every chance that they would like to see a few of their own at the front line of their media consumption. To hear insightful and experienced opinions in their politics, and I pose that these older consumers, AKA you, would like to see women as well as men as a demonstration of the richness of society today. People like Lisa Wilkinson, Ita Buttrose, Melissa Doyle, Tracey Grimshaw, Liz Hayes and others make good inquisitors on the front line, instead of energetic young things without political history and awareness with which to enquire.
As most will recognize, Wilkinson fronts the morning Today show alongside Karl Stefanovic, a man who knows the way to the hearts of most Australian women. Being spoken of in this month's Womens' Weekly as "The Woman who has it all" she's a 35 year veteran of the industry, outstaying all the stayers on the news face other than Chin herself. And even Karl Stefanovic, who cycled through four female co-hosts in 18 months before Wilkinson joined Today in 2007 admits her plight is something to be in awe of.
Ad. Article continues below.
At 55, she's the very face of the new generation of women in media who are not old… exactly what we stand up for at Starts at 60, and she's only 5 years away from many of you here in age.
Perhaps that is the key. But is the media industry noticing?
Do you think the more mature female news faces are the ones you most enjoy the company of in your media today?