Stevie Nicks reveals why she was almost banned from Australia forever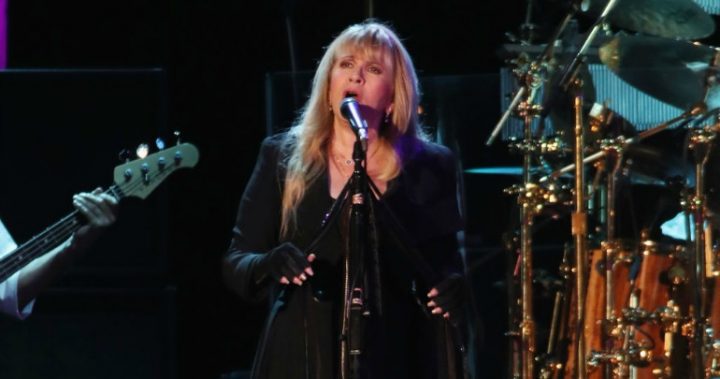 She's known for her outrageous behaviour but rock star Stevie Nicks has revealed that her wild antics nearly got her kicked out of Australia.
Anyone who has ever watched Border Security knows how tough our government can be when it comes to visas and visitors in the country – something Nicks had to learn the hard way.
According to reports in The Daily Telegraph, the 69-year-old was nearly deported when visiting the land Down Under back in 1986.
She had entered the country on a tourist visa to hang out with Tom Petty and Bob Dylan while they were on tour.
At one of their gigs in Sydney, she had one of the best views in the house and watched on from the side of the stage.
Ad. Article continues below.
To her shock, she was pulled in front of the crowd and ended up singing 'Like a Rolling Stone' and 'Knocking On Heaven's Door'.
It all sounds innocent enough, right?
Wrong.
After the Fleetwood Mac made another appearance on stage the following night, government officials believed she was in breach of her holiday visa – given that she was technically working.
Ad. Article continues below.
While fans couldn't get enough of Nicks on stage, government officials weren't so happy.
"Tom's wife couldn't make the trip so I said I would go and keep those guys in line," she explained to The Daily Telegraph.
"I got to have fun just being a fan and had one of the most amazing months of my life.
"I got to sing with them two nights and then I was told by the Australian government I would never be allowed back in the country, not with Fleetwood Mac, not by myself as a solo artist, not as a tourist if I did that again."
We couldn't imagine not seeing Stevie Nicks in concert ever again.
Ad. Article continues below.
She continued: "I couldn't even stand on stage to play a tambourine. So that was that."
Thankfully, Nicks didn't breach the rules again and has been allowed to travel back to Australia for many tours.
In fact, she's currently here on her 24 Karat Gold tour.
What do you think of Stevie's story? Was the government overreacting?