Elton John 'snubbed' in mum's will, with fortune going to PA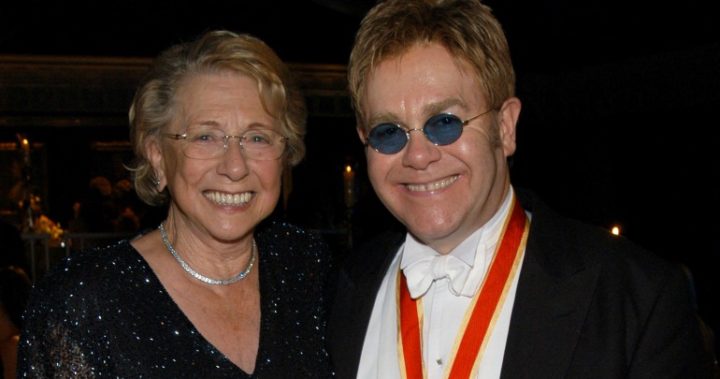 To lose a parent shortly after you've reconciled would hurt. To find out that they've snubbed you in their will, and thus may never have truly got over your falling out, would probably hurt even more.
That's what The Sun claims has happened to Sir Elton John, whose mother reportedly chose to leave the singer almost nothing in her will, while leaving a big chunk of her fortune to the personal assistant who sparked the feud between the mother and son.
The Sun reports that Elton was left just two ceramic urns and some family photographs in his mother Sheila Farebrother's will, and his husband David Furnish and sons Zachary and Elijah were missed out entirely. But she reportedly left half of her £534,000 (A$952,682, US$742,445) fortune to ex-PA Bob Halley. The other half was split between the Elton's half-brother Frederick Farebrother and Sheila's friend Deborah Woodward. 
Read more: 7 weird requests in wills of the rich and famous
According to The Sun, Elton and his mother felt out, after Halley, who had worked with Elton for three decades, was fired by the singer. Elton allegedly asked his mother to drop Halley as well, but she refused, saying that he was as close as a son to her. It was the last straw in an already tense relationship, and the mother-and-son feud played out in the English tabloids, with Sheila famously hiring an Elton impersonator to appear at her 90th birthday party in place of the singer.
Ad. Article continues below.
But after eight years of bad blood, they reconciled in 2016. And despite their past differences, the singer uploaded a touching image to social media following his mother's death in December. "So sad to say that my mother passed away this morning. I only saw her last Monday and I am in shock. Travel safe Mum. Thank-you for everything. I will miss you so much. Love, Elton," he wrote.
Ad. Article continues below.
According to The Sun's sources however, Sheila's will had been changed just a few weeks before her death, meaning that it was not a decision she made during the heat of their spat. While Elton was unlikely to be hurt over missing out on money, given that he's worth hundreds of millions of dollars himself, being largely left out of the will could be painful to the singer because it meant Sheila had not truly recovered from their fallout out, the source added.
As for Elton, he appeared at peace with mother, writing of her funeral in January, "thank-you for bringing me into the world and for all that you have done for me". So despite the source's claims, the singer may well have already been aware that he would not play a large part in the will, and was happy with that.
Ad. Article continues below.
Wills are tricky business, and being left out when you may have thought you'd be included, can be painful. Some legal advisers even recommend leaving a token bequeath or amount for each close relative so there are fewer grounds on which to challenge the will. 
 Have you been left out of a will? Did it bother you, or did you accept it as the person's right to do so?
With Facebook removing news sites from your feeds we ask that you sign up for Starts at 60's emailers here. And to keep us on your wall, join some of our new Facebook groups and clubs:
News Junkies Club – Australia
News Junkies Club – USA 
See news on the change and links to all our other clubs and groups here.
Important information: The information provided on this website is of a general nature and for information purposes only. It does not take into account your objectives, financial situation or needs. It is not financial product advice and must not be relied upon as such. Before making any financial decision you should determine whether the information is appropriate in terms of your particular circumstances and seek advice from an independent licensed financial services professional.