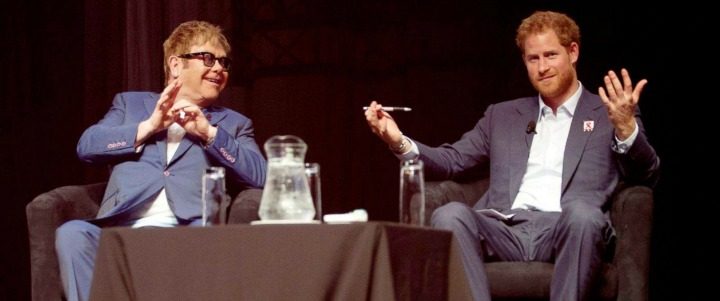 Prince Harry and Sir Elton John have shared the stage together in South Africa as they head up the campaign to eradicate one of the world's deadliest diseases.
The pair were in Durban for AIDS 2016 where they both spoke passionately about their desire to provide better health care and testing for the millions of people affected by the disease in Africa.
Prince Harry has long held this particular issue close to his heart as it was his mother's hard work and campaigning that help bring awareness to it in the first place.
As he spoke to the crowd, an impassioned Harry said it was time for the stigmas around the illness to be put to an end.
"It is time for us to step up to make sure no young person feels any shame in asking for an HIV test," he said.
"It is time for us to step up to make sure that girls and boys with HIV aren't kept from playing with their friends, classmates, and neighbours.
"It is time for us to step up and acknowledge that stigma and discrimination still act as the greatest barrier to us defeating this disease once and for all."
Later, Harry spoke with locals and fellow advocates, making sure he lightened the mood by laughing and joking around with them all.
Harry has proven to a natural when it comes to making those around him feel comfortable and is regularly praised by those he meets as being down to earth and not afraid to poke fun at himself.
Last week he took a finger prick blood test in front of the cameras to show how easy it can be to get tested for AIDS and cracked a few jokes at his own expense in the process.
Speaking to the doctor he said: "So whether you're a man, woman, gay, straight, black, white, whatever – even a ginger! – why wouldn't you come and have a test?"
In South Africa, Harry is working closely with Elton, who he has known for most of his life, and is hoping together they can make a difference to the lives of millions.
Durning his speech at the conference, Elton implored people to keep working towards a cure.
"Today, HIV/Aids is a treatable disease and no longer the death sentence it was ten years ago, but we cannot grow complacent in our fight to eradicate it completely," he said.
"If our efforts wane, anti-viral drug resistance will resurface, transmission rates will again rise, and this disease, which knows no boundaries, will once again become a ruthless pandemic with disastrous and far-reaching consequences."
Their efforts echo those of the late Princess Diana who was the first royal to meet a person suffering from HIV/AIDS.
In the late 1980s, when many still feared the disease could be contracted by simply touching a person, Diana sat on the sickbed of a man with Aids and held his hand.
She continued to advocate for a cure and better treatment for sufferers until her death in 1997.
She would no doubt be proud to see her son carrying on her legacy in such a beautiful way.
What do you think of Prince Harry's charity work? Is he a good role model?
Comments