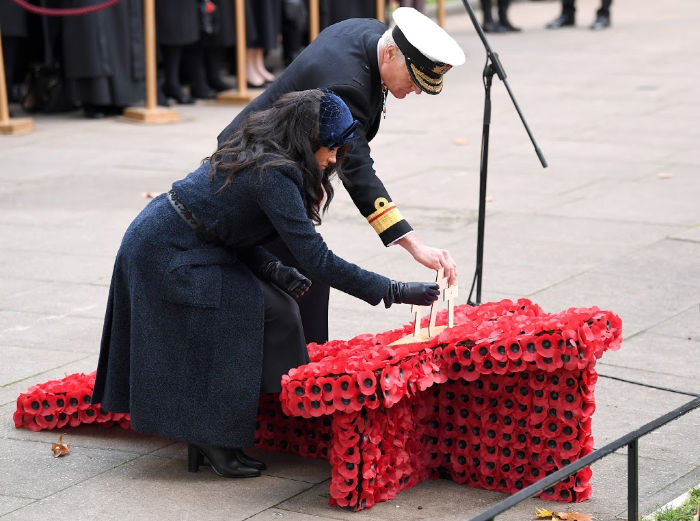 Dressing in dark colours as a mark of respect, the duchess looked sensational in a navy woollen coat, which she cinched in at the waist with an embroidered black floral belt. Layering up to battle the cold, she wore a black midi-length dress beneath the coat.
Meghan completed the classic look with a navy velvet fascinator, which featured an elegant veil, and a pair of black leather gloves to protect her hands from the bitter winter cold. She also donned a pair of knee-high leather boots for the occasion and wore her dark locks in loose curls.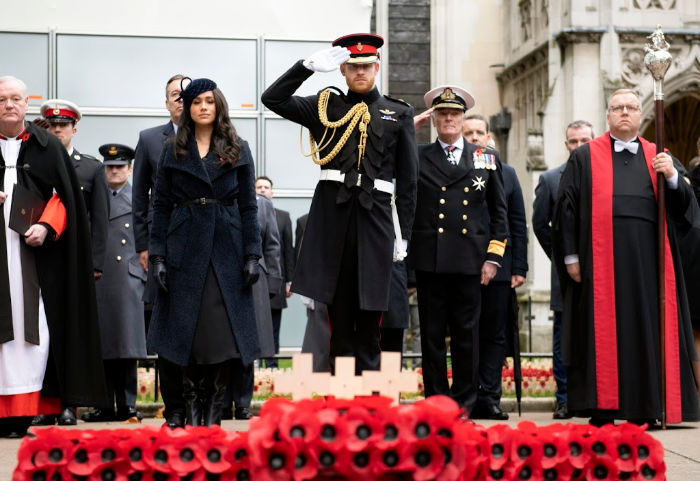 Meanwhile Prince Harry -who served in the Army for 10 years, completing two overseas deployments in Afghanistan – donned his Household Division ceremonial uniform, for the outing.
The couple also spent time meeting military veterans outside the Abbey, with Daily Mail royal correspondent Rebecca English revealing the details of some of the sweet encounters. Meghan crouched down to speak to Elizabeth Herschel, 96, who was wearing her husband's second World War medals, along with her own medals from her time with the Auxiliary Territorial Service.
Herschel, from Newcastle, also spoke to Prince Harry and offered him some advice: "I told him you can't pick your family, but you can pick your friends, and he said 'I will remember that'."
A statement published on the Sussex Royal Instagram page said Harry and Meghan were "honoured" to attend the event, adding: "Their Royal Highnesses each planted a Cross of Remembrance, paying respect to those who have served in our Armed Forces.
"They were then honoured to spend time meeting with veterans and family members from all areas of the Armed forces – from those who have served in past campaigns to more recent conflicts.
"This is the seventh time The Duke has attended the Field of Remembrance – having previously accompanied The Duke of Edinburgh for several years. The Duchess of Sussex was grateful to be able to join her husband on this important day and to personally recognise those who have served."
Camilla, Duchess of Cornwall, had intended to join the Sussexes at the event, however she had to pull out from the event at the last minute due to illness. The duchess was given doctors orders not to attend the engagement after falling ill with a chest infection over the last few days.