Delicious maple bacon roast chicken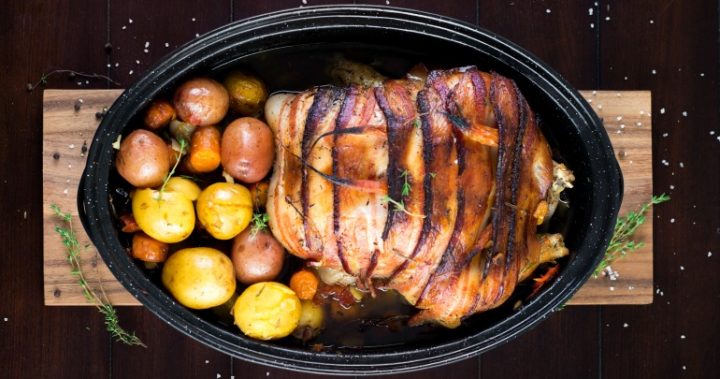 Maple Syrup and bacon may seem like a strange combination but they really take this dish to the next level.
You can throw everything into the one pan and roast it all up together for one truly delicious meal!
This dish is easy to cook and is perfect for pairing with salads and vegetables for dinner.
You can also store any leftovers for lunch the next day. The skin on the chicken turns out super crispy and flavoursome, while the potatoes are crunchy on the outside and fluffy on the inside.
This dish is so delicious, it will have you going up for seconds.
Ingredients
2kg whole chicken
3 small red onions, halved crossways
6 fresh sage sprigs, plus extra to serve
30g butter softened
200g streaky bacon halved lengthways
2 lemons, halved
6 baby white potatoes, halved
Extra 50g chilled butter, chopped
2 tablespoons maple syrup
3 roughly chopped carrots
Gravy, to serve
Method
Preheat oven to 180°C.
Dry the chicken by patting it with a paper towel inside and out.
Fill the chicken cavity with two of the sage sprigs and two of the onion halves to infuse it with flavour.
Rub the butter onto the chicken and arrange the bacon in strips over the top of the chicken.
Tie the legs together and place in a roasting pan.
Cover the top of the pan with alfoil and place in the oven for 1 hour and 15 minutes.
Once finished, arrange the lemon, potatoes, carrots, onion and remaining sage around the base of the chicken.
Place some of the extra butter around the vegetables and return to the oven for 45 minutes uncovered.
Test that the chicken is cooked through and the vegetables are tender, then remove them from the oven.
Finish off the dish by brushing the bacon with maple syrup while hot.
Serve with gravy or a side salad!