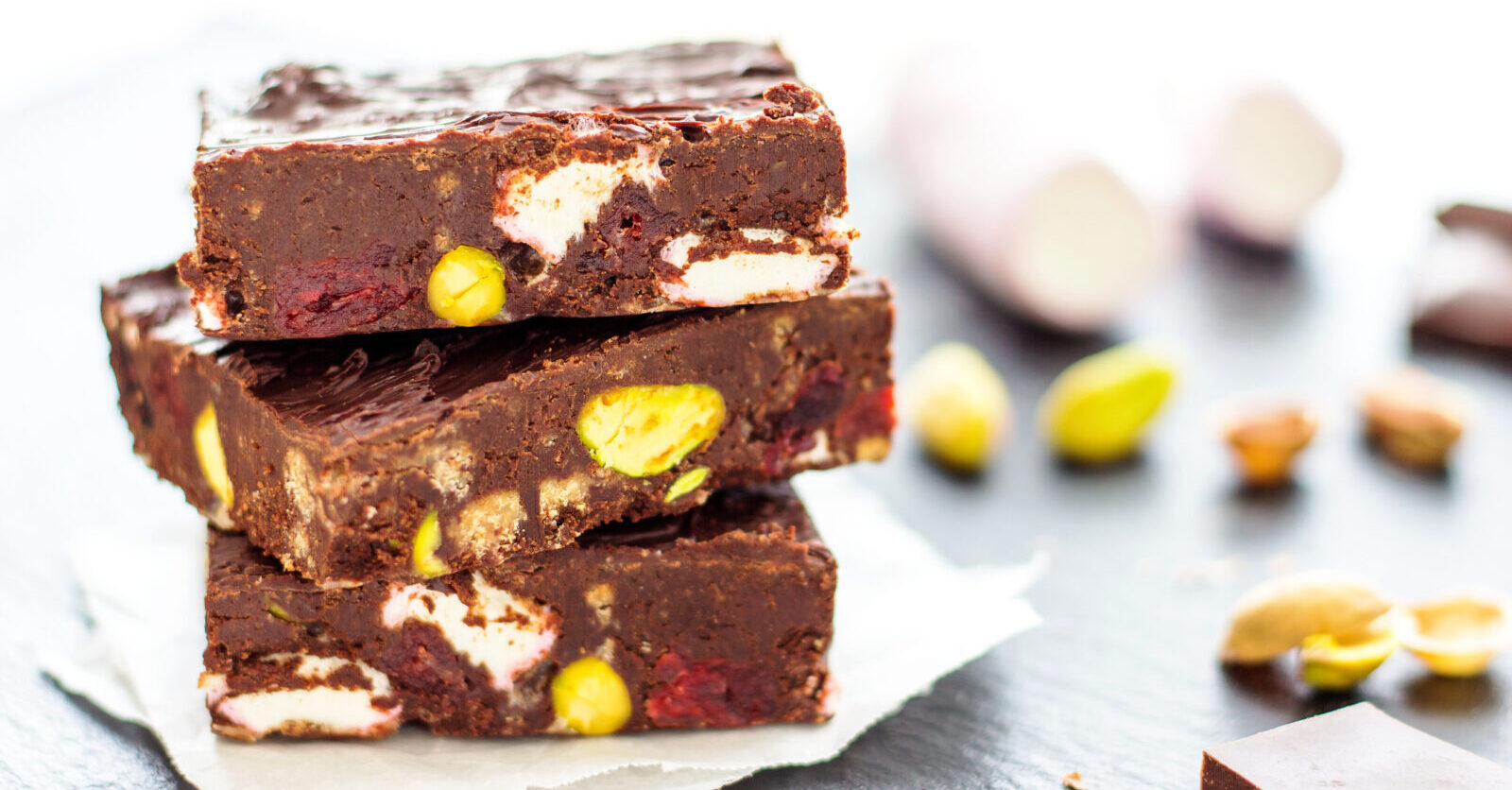 Easter rocky road slice
Homemade rocky road is a surefire way to wow just about any guest, not to mention a great way to use up extra chocolate. But the best part is, this recipe is also a slice. So, if you're after something a bit fancy, this is for you.
Serves 25
Ingredients
150g (1 cup) plain flour
80g (1/2 cup) brown sugar
110g unsalted butter, chilled, chopped
1 tbsp iced water
400g dark chocolate, finely chopped
4 x 55g Turkish delight chocolate bars, cut into 1cm pieces
100g pink and white mini marshmallows
180g pecan halves, toasted
175g small packet of chocolate eggs of your choice
Method
Preheat oven to 180C. Grease and line a 23cm shallow square cake pan with baking paper, allowing the paper to overhang.
Process flour, sugar and 80g of the butter in a food processor until the mixture resembles fine breadcrumbs. Without motor running, gradually add water until a soft dough forms. Press dough over base of prepared pan. Bake for 15 minutes. Set aside to cool completely.
Place chocolate and remaining butter in a heatproof bowl over a saucepan of simmering water. Stir with a metal spoon until mixture is melted and smooth. Set aside for 10 minutes to cool slightly.
Combine Turkish delight, marshmallow and half the pecans in a large bowl. Add cooled chocolate mixture. Gently fold until just combined. Spoon over biscuit base. Use the back of a spoon to lightly press into the pan. Press chocolate eggs and remaining pecans into the top of the chocolate mixture. Set aside for 2 hours to set.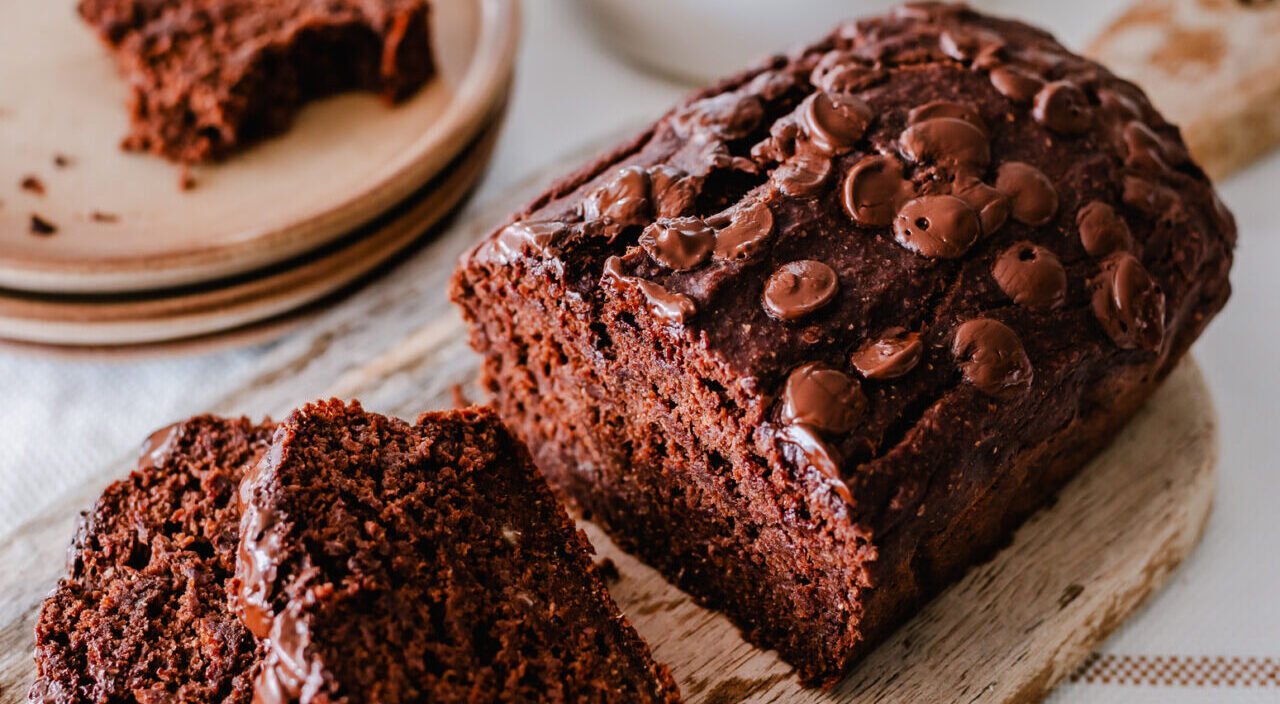 Chocolate loaf
After a long Easter lunch, winding down with a hot cup of coffee or tea sounds pretty perfect. But you know what would be even better? Tucking into a delicious slice of chocolate loaf. Lucky for you, we've got the perfect recipe.
Serves 4
Ingredients
Method
Preheat oven to 160C. Grease a 25cm loaf tin with cooking oil and line base and sides with baking paper.
In a large bowl, combine cocoa and cold water to make a paste. Add boiling water, bicarb of soda and chocolate eggs, then whisk until chocolate has melted and mixture is smooth. Set aside.
Put sugar, butter and condensed milk in the bowl of an electric mixer and beat on high, using whisk attachment, until smooth. Add eggs and liquid glucose, then beat until combined.
Sift in half the flour with baking powder and fold through. Add chocolate mixture and stir until combined. Add remaining flour and stir until smooth.
Pour batter into prepared tin and bake for 50 minutes or until cooked when tested with a skewer. Allow to cool. Dust with extra cocoa and serve.
Chocolate cornflake cakes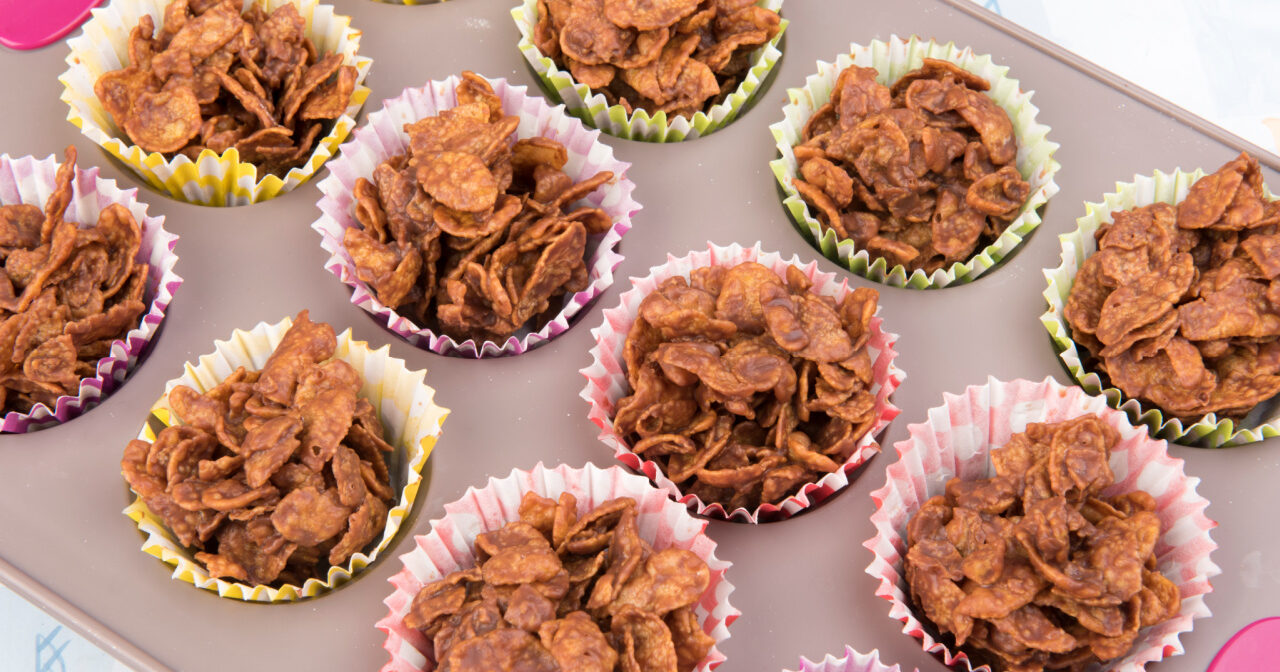 It's an oldie but a goodie! These chocolate cornflake cakes are the perfect sweet treat. Not to mention the fact they don't take long to whip up. Why not get the grandkids in the kitchen to help make these simple bites?
Serves 12
Ingredients
50g butter
100g chocolate eggs, broken into chunks
3 tbsp golden syrup
100g cornflakes
Method
Melt butter, chocolate and golden syrup in saucepan over low heat (or briefly in the microwave). Allow to cool slightly.
Pour mixture over cornflakes in a large bowl and stir with a wooden spoon.
Spoon into 12 cupcake cases arranged on a muffin tray. Place in the fridge to chill until completely set. Serve.