Makes: 2 cups
Prep time: 10 mins
Ingredients 
Method
In a large bowl, smash strawberries with a potato masher until coarsely crushed. 

In a large pot over medium heat, add strawberries, sugar, lemon juice, and a pinch of salt. Bring to a boil and cook until thickened and bubbles completely cover the surface, 20 minutes.

 Let cool, then pour into a jar with a tight-fitting lid and let cool to room temperature. Place lid on and store in the refrigerator. 

The jam will keep stored in the refrigerator for up to 2 weeks.
Ginger peach jam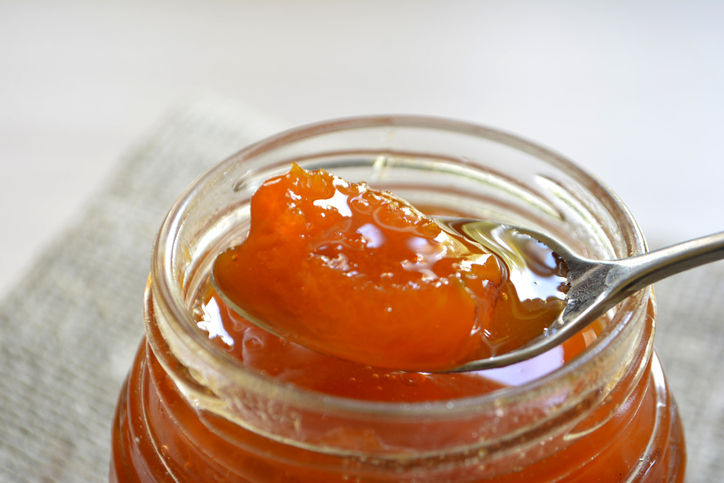 There's no denying it, we absolutely go crazy for peaches! In order to extend the joy that is sweet, juicy, peaches, we recommend making this jam. Sealed and stored properly, it can last you for months! Perfect for those days when you need a spoon full of sunshine to brighten up your day. 
Though ginger is optional in this recipe, we suggest you give it a try. If you've got sweet peaches on hand, the ginger gives it that extra kick that really balances out the flavours. 
Makes: 1 cup
Prep time: 5 mins
Ingredients
2 lb. fresh peaches

2 tbsp. lemon juice

1 1/2 cup granulated sugar

1 tsp. lemon zest 

2 tsp. grated fresh ginger (optional)
Method
Bring a large pot of water to a boil and fill a large bowl halfway with cold water and ice.

Make a shallow "x" onto the bottom of each peach. 

When water is boiling, add peaches and let poach for 45 seconds. Remove peaches and immediately shock them in an ice bath. 

When they are cool enough to handle (this should only take a minute) remove peaches from the ice bath and peel off the skin. Remove pits and roughly chop peaches.

Place peaches into a large heavy-bottomed pot and toss with lemon juice. Cook over medium heat, stirring occasionally and using your spoon to crush some of the fruit until peaches are soft and releasing juices, 13 to 15 minutes.

 Add sugar, lemon zest, and ginger if using, and stir to combine.

Increase heat to medium-high and bring mixture to a boil. Boil, stirring frequently, for 5 minutes.

Reduce heat to medium-low and cook, stirring occasionally, until jam is thick, 30 minutes-1 hour depending on peaches.

Remove from heat, transfer to jars, and let cool completely before serving.
Vanilla lime and blueberry jam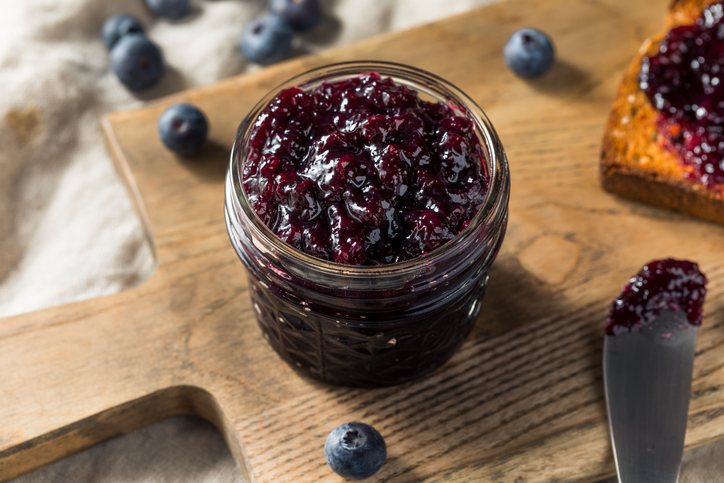 We know what you're thinking, but trust us on this one- lime and vanilla perfectly complement the sweetness of blueberries. Not a big fan of lime? Not a problem! Give oranges or even lemon a try. Blueberries and citrus fruits are flavour besties. And while this jam is amazing on toast, we do think you should try stirring it in with your oatmeal.
Makes: 2 cups
Prep time: 5mins
Ingredients 
3 1/2 cup fresh blueberries 

1/2 cup granulated sugar

Juice of 1 lime

1 tsp. lime zest

1/2 tsp. pure vanilla extract
Method
In a large saucepan over medium heat, combine blueberries, sugar, and lime juice. Cook, stirring frequently until blueberries release their juice and mixture come up to a boil, about 8 minutes.

Continue cooking over medium heat until foam subsides and jam is thick, 12 to 15 minutes. 

Stir in lime zest and vanilla, transfer to clean glass jars, and let cool to room temperature. 

Transfer to refrigerator and cool completely.
Blackberry jam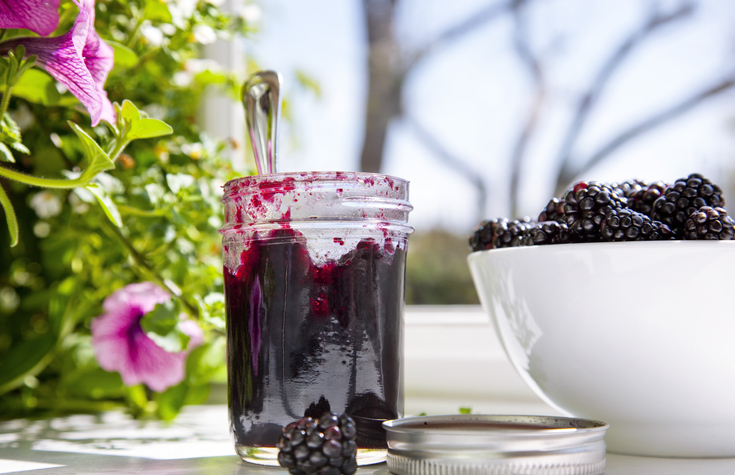 Whether you're smearing it on toast or mixing it in with your oatmeal, this homemade jam is a sure win to give your breakfast a major upgrade. This blackberry jam recipe is like having summer in a jar, and the best part? This super easy two-step recipe can also be frozen, so you can also freeze it and enjoy it all year long!
Makes: 2 cups
Prep time: 5mins
Ingredients 
4 cup blackberries
2 cup sugar
2 tbsp. lemon juice
2 tsp. lemon zest (optional)
Method
Combine blackberries, sugar, and lemon juice in a large bowl. Use a large spoon or potato masher to crush the berries, then transfer the mixture to a medium saucepan.

Heat the saucepan over medium heat and bring to a boil. Cook, stirring occasionally, until jam is thick, 15 to 20 minutes. 

Skim any foam that has risen to the surface and stir in lemon zest if using. 

Transfer to a clean glass jar and let cool completely. 

Tightly secure lid and refrigerate.
Bacon jam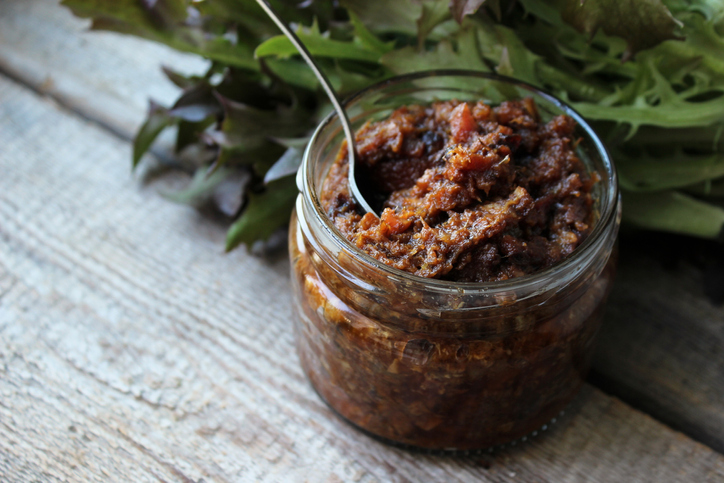 Making jam doesn't have to involve seasonal fruit, sometimes it involves caramelised onion, shallots, bacon, and maple syrup. This sweet and savoury spread is amazing on toast and even better with cheese! While you might be able to find jarred artisanal bacon jam in a specialty store, this jam is crazy easy to make at home. 
Makes: 1 cup
Prep time: 30 mins
Ingredients 
1 lb. bacon, cut into 1″ pieces

1 onion, finely chopped

4 shallots, minced

2 cloves garlic, minced

1/2 cup brown sugar

1/4 cup maple syrup

1/3 cup apple cider vinegar

1 tsp. chilli powder
Method
In a medium saucepan over medium heat, cook bacon until crispy. Transfer bacon to a paper towel-lined plate, reserving about a tablespoon of bacon fat in the pan.

Reduce heat to medium-low. Add onion and shallots to the pan and cook, stirring often, until the onions are caramelized, about 15 minutes.

Stir in garlic, brown sugar, maple syrup, vinegar, chilli powder and cooked bacon. Bring mixture to a simmer then reduce heat to low. Cook until the liquid has reduced and thickened and the onions are jammy, 7 to 10 minutes.

Let cool before transferring to a jar.

Serve with cheese and crackers, or even with a burger!