A wire wreath is by far the most versatile, and also strong enough to hold heavier items you might want to attach to it, such as fruit or evergreen branches. When buying your wire wreath, keep in mind that the wire may still be visible through your decorations, so opt for more muted tones (if possible) that won't clash with your adornments. If you've got enough wire around the house or even a few spare coat hangers, you could make your own, but we recommend saving as much time as possible for the fun part: the decorating!
You'll need:
A basic pre-formed wreath (wood or wire)
A garland of your choice
Decorations: painted eggs, fuzzy chickens, evergreen plants, dried flowers/fruit or whatever your imagination desires
Craft glue
Wire cutters
Fishing line
Decorating your wreath
To get started on the wreath you've chosen, the first step is winding the garland of your choice around the base. Garlands can be plastic vines, strings of beads, flowers or fruits. If you've bought a wire garland, it should stay in place without the need for glue. You can either leave the wreath with just the garland or get creative and decorate it further.
At this time of year, your options are only limited to the Easter craft supplies you can find in-store, but consider adding some floral wire, ribbons, an egg garland or fuzzy yellow chickens within the wreath. Painted eggs make for a beautiful addition, and the kids will love the process of making them.
If you've got a bit more time on your hands, an evergreen wreath will add a touch of rustic charm to your home, and fill the house with the aroma of fresh greenery. This one may be a bit too fiddly though for young grandkids and may require the use of pruning shears, so it's best to leave them to other decorating tasks.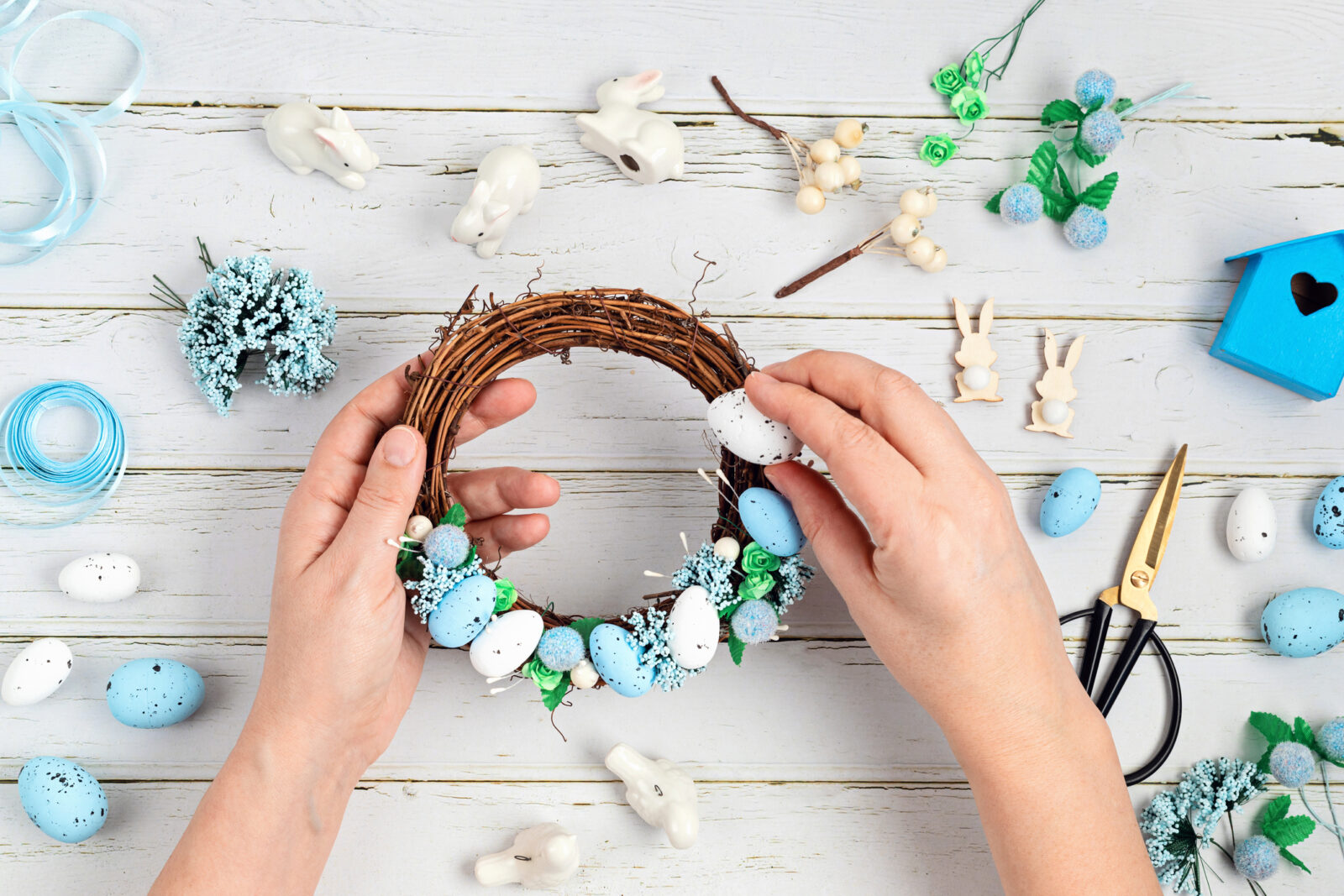 The first step is to collect your evergreen materials. This is a great excuse to get outdoors and burn off some of the grandkids' chocolate-fuelled energy. Wreaths can be decorated with anything, but some great options for you to gather include eucalyptus pods, pinecones, pine needles, lavender, moss, straw, bark and leaves. While not 'evergreen', you can even use things such as fresh cranberries or flowers, but keep in mind these will wilt.
To decorate an evergreen wreath, start by trimming and shaping the twigs and branches around the basic wooden wreath. Using the wire, secure the twigs and branches on the wreath. Once this part is done, the grandkids can use the glue to secure any additional bits and pieces to decorate the wreath however they like.
Your options are only limited by your imagination! Animal figurines, fairy lights or paper animal cut-outs are just some of the fun ideas we've seen. Once you've finished decorating, rest the wreath on a flat surface until all the bits and pieces have dried. Then, it's time to hang it up and wait for the compliments to roll in!