Creating and decorating Easter baskets to hold your sweet treats is bound to keep the kids occupied for hours. Using either paper or cardboard, you can help them put their creative sides to the test by forming baskets and bags to hold their chocolates and eggs.
It's a great chance to allow them to get a bit messy too, by using pencils, crayons and pens to decorate the outside, before gluing it together. Many people will remember filling it with a small layer of straw or paper strips to make the perfect basket to use for the Easter egg hunt.
A classic Easter egg hunt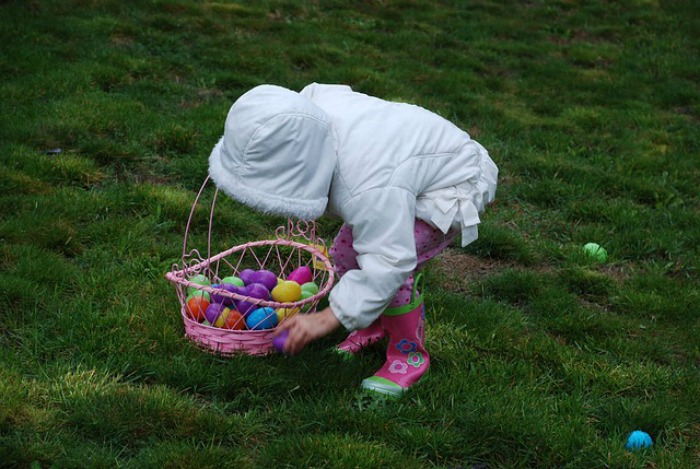 Along with making Easter egg baskets, why not fill them with well-earned treasures from an Easter egg hunt! It's worth planning ahead if you're expecting guests this year, and heading out into the garden early to lay out some eggs (whether they're chocolate or just plastic) is a great way to ensure everyone's favourite activity goes without a hitch. It's an opportunity for you and the kids to enjoy the great outdoors for a few hours during the excitement.
All that walking around is helpful when it comes to working off any treat consumption.
Getting creative with colouring eggs
It's not ALL about chocolate, of course, and dyed eggs were hugely popular not that long ago.
Hand-dyed eggs make gorgeous decorations and are easy to make, although you might want to prepare the eggs for dyeing before the grandkids come over to avoid unnecessary spills! Hard-boiling the eggs, which is easier than the blowing-out method as they are less fragile and won't break as easily, with onion skin or beetroot in the water to colour the shells is one of the most straightforward egg-colouring methods.
Decorating Easter bonnets
Once you've got a basket and the eggs done, all it takes is an Easter bonnet to complete your activities. While there are any number of ways to make a bonnet or hat, Kidspot has a simple way of creating some impressive works of headwear art – with some very simple steps to follow in the video above.
Laying some bunny footprints through the house
Another great way to surprise younger grandkids, especially if they're staying overnight, is by laying down some bunny footprints, giving the illusion the Easter bunny has visited.
Creating some bunny footprints could surprise the grandkids on Easter morning. One way to make it an exciting time for your grandkids is by using talcum powder and a stencil to dust footprints onto the floor. Make a trail to their bedroom doors and out again. You can download a template by clicking here. The best part is you can vacuum it all up with ease, leaving no mess behind.
What are some of your favourite past Easter traditions or activities?
This article was originally published 29 Mar 2018, information updated on 08 Apr 2023