'Fans' of Cassie Sainsbury plead desperately with tech giant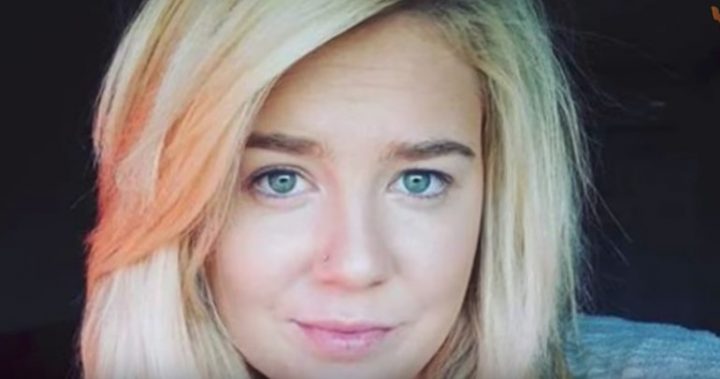 In the latest instalment of the Cassie Sainsbury saga, "fans" of the accused drug smuggler are calling for Samsung to unlock the phone that Sainsbury claims has proof of her innocence. 
The issue came to light earlier this week, after a 60 Minutes interview that aired on Sunday, September 24, had Cassie claiming that she had forgotten the password to her Samsung phone, which prevented her from securing any alleged evidence. 
"Don't you think that's an incredibly convenient thing to have happened?" interviewer Liam Bartlett asked Sainsbury. 
"I haven't used it in six months," Sainsbury responded. "I'm not going to remember a pattern." 
One day later, one individual posted to the Samsung Australia Facebook page about the issue. Dripping with sarcasm, the post (which seems to have since been removed from the Samsung Australia Facebook page) references Australian reality television by pointing out that the case of Cassie's locked phone is "far bigger than Nollsy getting robbed in season 1 of Australian Idol or Josh and Elyse not winning Hallway week on The Block." 
Ad. Article continues below.
Read more: 'Cocaine Cassie': Evidence I'm innocent is on my locked mobile phone
"One of our own is in trouble," the post continues, describing Sainsbury as "a young fly in/fly out brothel receptionist" and going on to give a long and detailed summary of how the case has unfolded to date. 
"The only chance at being found innocent is dependant on either a court finding that she is a truthful person or if Samsung can unlock her phone … only Samsung can save the day. Has Apple saved a girl from 21 years in jail? Samsung I'm holding your beer and expecting s**t to get real." [sic] 
Read more: Claims Cassie Sainsbury stole from a South Australian tennis club 
Just in case it wasn't already clear how Samsung could come to "Cocaine Cassie's" rescue, the post went on to outline it. 
Ad. Article continues below.
"This poor girl needs her phone unlocked so she can access the photos which were sent to her by Colombian Assassins who somehow survive off Centrelink in a low social economic suburb of South Australia who have been hired by the nefarious 'Angelo' to spy on her family to compel her to finish smuggling the drugs which she purportedly knew nothing about." 
Read more: Cassie Sainsbury's plea bargain rejected by court 
It seems the post has since been removed from the Samsung Australia Facebook page, but its legacy is sure to live on, as it garnered more than 15,000 reactions before removal, according to a Daily Mail article. 
Sarcasm aside, Sainsbury has stated that if she had the password, she would unlock the phone. Since Samsung surely has some kind of technical override for this, it might be a legitimate avenue to pursue. 
You can read the full post in the image below. 
Ad. Article continues below.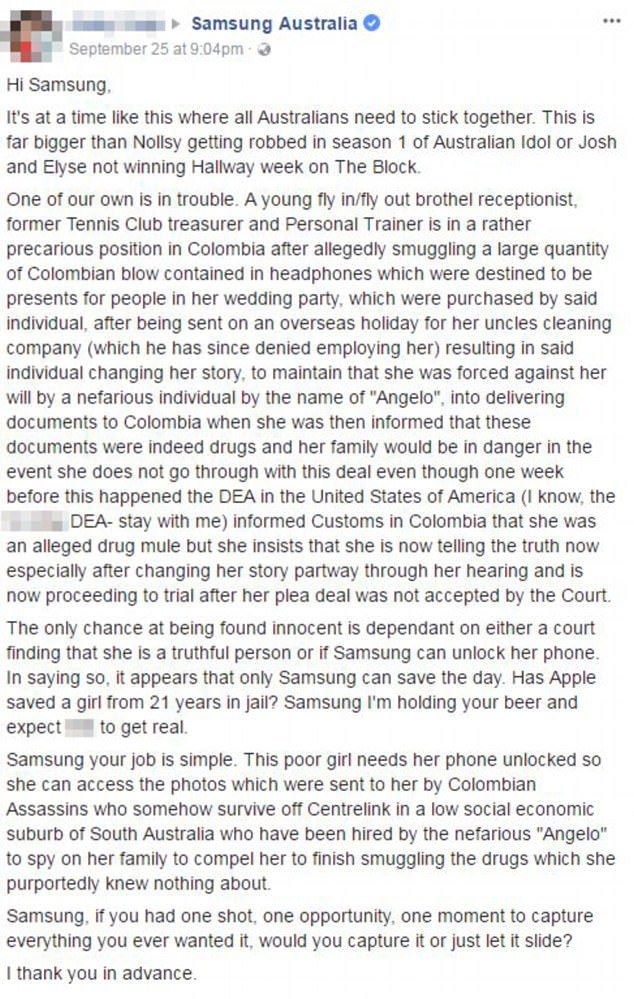 What do you think of the tongue-in-cheek post? Should Samsung actually unlock the phone?