In September 1990, my husband and I had the very great privilege of adding our footprints to those of royalty, artists, literary giants; the famous and the infamous, as we boarded the Orient Express in Venice, Italy. Our journey to Paris, France would take less than 24 hours.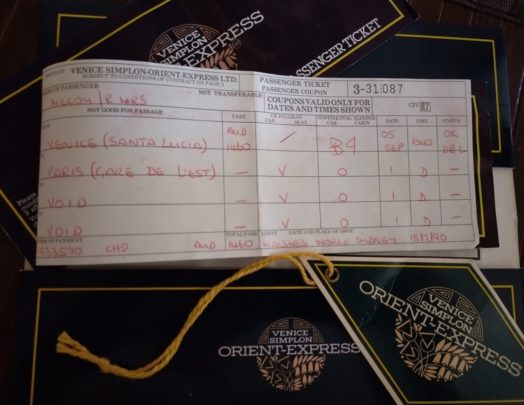 I could barely breathe with the excitement I felt as we took our first few tentative steps on board. I touched every wood-panelled wall, ran my fingers around every etching, caressed every gold bar, put my finger prints on every window I passed, lingered too long at every painting. Okay, okay … Yep, I was starting to look creepy as my husband bustled me into our twin cabin (where the touching of the art-deco details and French-polished cherry wood began again). My husband gave up and figured that, as we were now in the privacy of our own cabin, nobody would report this crazy, wide-eyed woman.
I wallowed in the grandness, I immersed myself in the history; I actually cried with the pure joy of it. We were on the Orient Express — an uncontested icon of the rails — travelling from Venice to Paris, and I was determined to be 'in the moment' for every second of our journey; you know what I mean.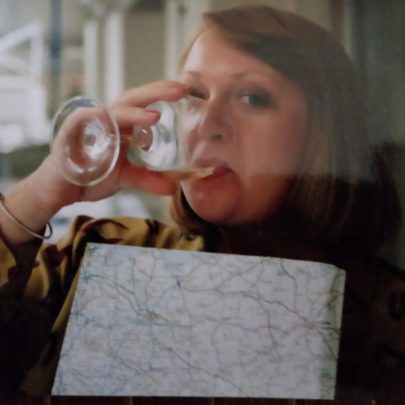 After promising to 'behave myself', we went walking. This is a very long train. We found the Club, Dining and Shopping cars and had drinks with some lively American fellow travellers before it was time to return to our cabin for afternoon tea.
The steward brought in the most decadent, delicious afternoon tea. The China was of the most iridescent quality, seemingly delicate but sturdy of nature, with little bluebells for decoration. Yes, it was your 'typical' pastries, scones, jam and crème but, oh my goodness, the taste was anything but typical.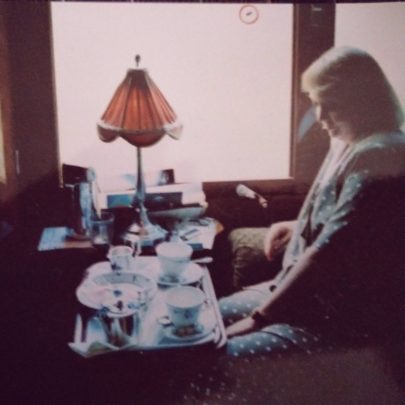 The afternoon passed unbelievably quickly with more walking, more camaraderie, more of me 'caressing' train bits, ending with a card game in the piano bar. Time to dress for dinner.
It was optional, but guests were encouraged to 'dress' in formal 1920s style for the evening meal. Hubby and I did make an effort with some glad rags but didn't go 'all out'. To this day I remember the beautiful young couple, dressed to the nines in appropriate roaring '20s garb, entering the dining car. There was no fanfare, no exhibitionism on their part but, almost as one, the entire carriage rose in appreciative, spontaneous applause.
I remember we had a four-course sumptuous feast with all the trimmings and champagne, but I simply do not remember the details. Today, as you journey across Europe in style, dining on the Orient Express is a unique experience. Menus celebrate exceptional artisanal cuisine and the train takes fresh ingredients on board at stops along the way. The experience I had was magnificent.
By the time we'd returned to our cabin it had been transformed into an upper and lower berth sleeping compartment. Bunk beds had never looked so luxurious. This is the moment you find out why luxury linen is so expensive and why particular pillows cost a fortune. It's because they're wonderfully sumptuous and glorious and no Myer or David Jones will ever compare, sadly. Word of warning though, you don't have a toilet in your cabin nor are there showers. There's a 'WC' at either end of all carriages; this is a 1920s detail I could have done without.
We talked all night as we followed our journey on a map; a 1990s paper map. Paris was getting closer and for the first time in my travelling life, I was not looking forward to seeing the French capital.
Come morning, our skilfully experienced steward transformed our cabin back to lounge perfect luxury and served a magnificent breakfast in-cabin. I ate slowly.
That 1990's Orient Express rail journey continues to be my yardstick for all round excellence of service. If you ever get the chance to experience any of the iconic rail adventures though, I encourage you to do it. It's an experience not to be missed.
Do you enjoy train travel? Have you travelled on the Venice Simplon-Orient-Express?
Been travelling? Travel at 60 wants to publish your story. Simply sign up as a contributor and submit your stories. When your story is published, you'll go into the draw to win some great weekly prizes. You can also join the Travel at 60 Travel Lovers Club on Facebook to talk to other travellers in the Travel at 60 community.