The Queen celebrates 20th anniversary of warship close to her heart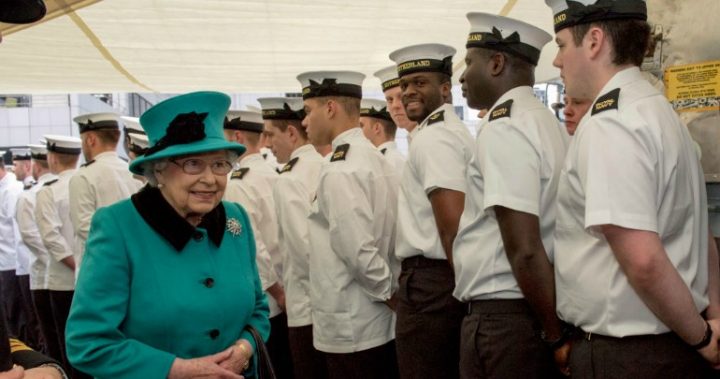 She may be 91-years-old, but Queen Elizabeth is showing no signs of slowing down.
Her Majesty was spotted on board the HMS Sutherland to mark 20 years since the warship was first commissioned.
Anyone who has been a loyal follower of Queen Elizabeth II will know that The Royal Navy has played a huge role in her life.
Read more: Queen passes one of her most moving royal duties on to Prince Charles.
Ad. Article continues below.
In addition to being a Naval wife, she has also been a Naval mother, daughter, and granddaughter.
Her Majesty opted for a stunning turquoise coat with matching hat for the special ceremony.
She topped off her look with a simple black handbag and gloves to protect her from the harsh London weather.
Prince Philip, who retired from most of his royal duties back in August, was not in attendance.
During her tour of the ship, the Queen had the pleasure of meeting with many of the ship's important personnel.
Ad. Article continues below.
Read more: Why the Queen only carries money on a Sunday.
She personally thanked chefs, fire-fighters, commanders and air crew who have helped the warship with its many successes.
She also posed for several photos and attended a special reception with members of the ship, their families, as well as former commanding officers and affiliates.
Ad. Article continues below.
The HMS Sutherland has handled several major missions around the world over the past 20 years and is known for protecting the HMS Queen Elizabeth, the Navy's largest warship.
At one point during the festivities on Monday, the Queen was presented with a bunch of flowers from a little girl.
The official Royal Family Instagram used the special occasion to share some old photos of the Queen during her many visits to warships over the year.
They even shared a video from the day of the Ship's Company giving a "Man and Cheer Ship" in honour of her visit.
Do you think it's important that the Queen still attends events like this?