Trump dumps old refugee ban for new, vague policy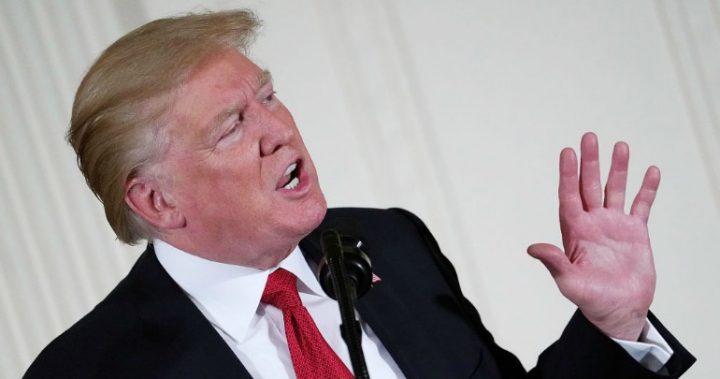 It looks like Donald Trump has half-admitted defeat when it comes to his strict refugee bans.
For four months, Trump issued a worldwide ban on all refugees entering the United States.
This meant that any refugees attempting to abandon the violence and dangers of their war-torn countries were refused entry to America.
While the ban has now ended, Trump is still adamant that there are certain countries that he's not prepared to budge with.
Read more: Donald Trump once had a thing for Princess Diana
Ad. Article continues below.
In fact, the US president says that 11 counties will still be subject to a brand-new 90-day ban.
There's just one problem: so far, the White House is refusing to name the countries that are still on the ban list.
Last year, Trump declared that tougher security checks were vital for people from Syria, Sudan, South Sudan, Yeman, Somalia, North Korea, Mali, Libya, Iraq, Iran, and Egypt.
Just last week, a United States district judge temporarily prevented another of Trump's travel bans from being implemented—a move the White House later said was "dangerously flawed", and "undercuts the President's efforts to keep the American people safe and enforce minimum security standards for entry into the United States", according to an article from The Washington Post. 
The judge's order was handed down just hours before the latest travel ban would have gone into effect, restricting applications from Chad, Iran, Yemen Venezuela, Libya, Somalia, North Korea and Syria.
Ad. Article continues below.
The only thing the White House has been clear on is that people from the 11 countries (whatever they may be) on the ban list will be investigated individually.
All new refugees will still be subject to Trump's intense vetting policy, and officials will be more thorough when they check the backgrounds of applicants.
Read more: Donald Trump vows to 'totally destroy' North Korea in UN speech
One of Trump's key goals when becoming president was to close the US borders and put Americans first.
It is believed that the number of people seeking refuge in the States will be significantly lower this year, following Trump's decision to cap numbers at just 45,000.
Ad. Article continues below.
Former president Barack Obama capped the refugee intake at 110,000 admissions in 2016.
Trump is still convinced that he will build a wall that separates Mexico from the United States and has made his desire to deport immigrants very clear.
At the time of publication, Trump had been surprisingly quiet on Twitter, with no mention of the end of his ban seen on his favoured social media site.
Do you think America should be tougher when it comes to border control?