First look at Lisa Wilkinson on The Project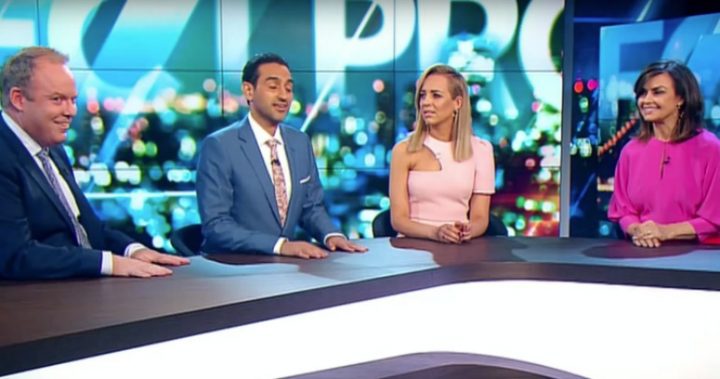 It's been a long time coming but viewers around Australia have been given their first look at Lisa Wilkinson on The Project.
While the show officially returns to screens from next week, viewers will have a little longer to wait to see Wilkinson on Channel Ten.
According to reports, the 58-year-old is set to begin her run on the current affairs program sometime after Australia Day.
And, while the show airs six nights a week, the mother-of-three will only appear in three episodes a week.
She will co-star alongside Hamish McDonald on Sunday evens and be joined by Waleed Aly for Friday nights.
Ad. Article continues below.
The popular TV presenter will also appear with Carrie Bickmore, Peter Hellier and Aly for an additional evening.
While it is less than the amount of time she appeared on screens for Channel Nine's Today, her hosting duties won't be the only thing she does for Ten.
She'll also be working on a brand new digital venture called Ten Daily.
Read more: Lisa Wilkinson takes on exciting new role at network Ten
Ad. Article continues below.
A press release issued late last year described the yet-to-be-released website will feature "short-form video content and offer premium and exclusive entertainment, lifestyle, opinion news and sport content."
Reports suggest that Wilkinson is being paid more that $2 million for her new roles at Channel Ten. 
Read more: 'It was tough': Lisa Wilkinson speaks out after leaving Channel Nine
Fans will recall that she dramatically resigned from Today last year following a pay gap dispute with Nine Network executives.
Ad. Article continues below.
They argued that they worked hard to pay Wilkinson the amount she asked for, but she left the network anyway.
Her role at Today later went to Georgie Gardner.
Last month, Wilkinson admitted that it was tough leaving her role on Today, but that she had to make a stand.
"When you feel that there's a pattern being repeated that's when you have to take a stand," The Australian reported her explaining at a business breakfast.
Ad. Article continues below.
"You draw a line in the sand, you work out this far and no further, and I got to that line in the sand and said, 'this far and no further'. And it was really a simple decision in the end."
She added that by standing up for her rights, she reignited the conversation about the pay gap in Australia and that she was "thrilled" to have done so.
The newly-released promo from Channel Ten shows Wilkinson sitting alongside Bickmore, Hellier and Aly.
"In 2018 guess who's coming to The Project?" the video asked.
In his typical humorous way, Hellier jokes that Hugh Jackman is joining the panel.
Ad. Article continues below.
He then asks if former host David Hughes is coming back, before asking if it's the woman from Game of Thrones.
Wilkinson then appears on screen, beaming from ear to ear.
What do you think? Do you watch The Project? Do you think Lisa is going to do a good job?