Tallinn is the capital and most populated city of Estonia. Located on the Gulf of Finland, in Baltic sea, it is most easily reached by a two-hour ferry ride from Helsinki. Not one to travel the easy way, I flew in from Riga in Latvia on an Air Baltic flight. Tallinn retains its walled, cobblestoned Old Town, an almost perfectly preserved piece of history. It's like stepping into a medieval theme park – just without the rides. Most streets are limited to traffic which makes Tallinn a walker's paradise. You can wander the streets of the Old Town and not get lost. Mostly the streets are flat or gently sloping and there are not too many stairs. The streets all join up and the only dead ends are when you reach the walls that still remain around the Old Town.
If you keep away from the dozens of restaurants surrounding the Town Square, the meals are cheap and delicious. Many restaurants are located underground with arched ceilings and are
filled with a warm ambience. One of these, aptly named Grandma's Place is located just a few minutes' walk from the Knight House, my home-away-from-home hostel in Tallinn. Having to duck
down to enter the cavern in the basement, I ordered a cider (exactly half the price of my lunch drink on the Town Square) and Kana (honey-flavoured chicken fillet in parsley sauce, garlic potatoes, wild mushroom sauce, and marinated onion). Total price was €17.50. Seriously, it was the tastiest, moistest, most tender chicken I have ever eaten! And the free, nutty flavoured brown bread I was given rounded off the meal perfectly. I could have just eaten the bread and butter and have been happy. I think I'll be skipping lunch and dining here every evening. I intended to try a new place every night, but I don't think it's possible to be any better than Grandma's!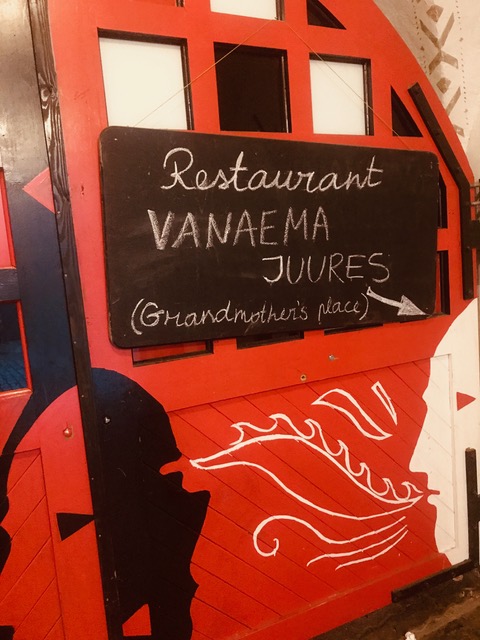 Because Australia is the other side of the world from here and they meet so few Australians, the locals are friendly and want to hear all about Australian life, especially the food and animals. Tallinn lies off the beaten touristic routes so you can enjoy strolling at your own pace and take as many photos as you like without being knocked down. Even when a cruise docks, (just one ship in the week I was there in October), there's plenty of room for everyone.