Meanwhile, Prince William coordinated perfectly with his wife as he donned a smart navy suit for the outing, complete with a crisp white shirt and blue patterned tie. The couple also wore poppy pins on the left side of their chests, ahead of Remembrance Day on Sunday.
The outing is the first of several upcoming joint engagements for the royal couple, as they are also scheduled to appear at the annual Royal British Legion Festival of Remembrance at the Royal Albert Hall on Saturday. Many members of the British royal family will attend the momentous event, including the Duke and Duchess of Sussex.
William, Harry, Catherine and Meghan have not been seen together in public for months and the appearance comes just weeks after Harry acknowledged that there was tension between the brothers during an interview for ITV documentary Harry & Meghan: An African Journey.
Following the concert, William, Kate, Meghan and Harry will also attend Sunday's Remembrance Day Service at the Cenotaph, while the Cambridges are also scheduled to represent the royal family at the Royal Variety Performance on Monday evening at the Royal Albert Hall.
Speaking at the launch, Prince William said: "Just now and on previous occasions, it has been humbling to speak to survivors of the London Bridge and Manchester attacks, the Cumbria floods, the Grenfell Tower fire and other disasters here in the UK.
"Their stories are as heart-breaking as they are inspiring. Their resilience and strength are deeply humbling. I am very pleased that the National Emergencies Trust now stands ready to provide a structured, organised response to help people right across the UK in the event of a domestic disaster."
Also on Thursday, the Duke and Duchess of Sussex stepped out to attend the 91st Field of Remembrance at Westminster Abbey, ahead of Armistice Day on Monday.
Meghan and Prince Harry each planted a small wooden Cross of Remembrance at the London site, alongside many others that had been erected by military regiments and organisations from across the UK, adorned with the red poppies that are synonymous with the memory of fallen war heroes.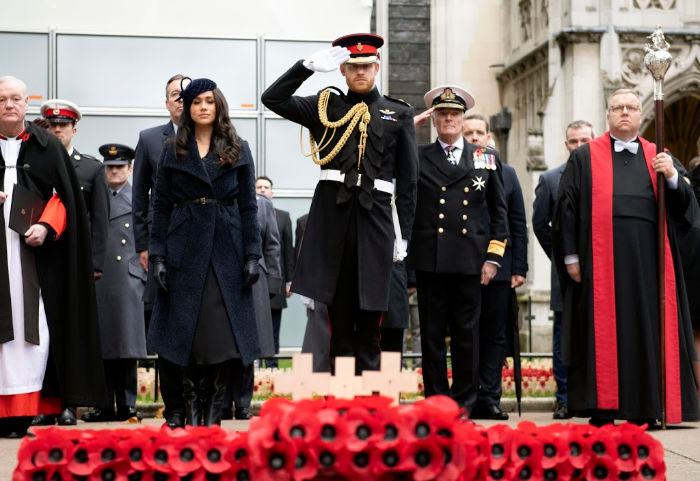 It was the first time that Meghan has attended the event, which pays tribute to Britain's war dead, however her husband – who served in HM British Armed Forces himself – has attended the poignant ceremony every year since 2013.
Camilla, Duchess of Cornwall, had intended to join the Sussexes at the event, however she had to pull out from the event at the last minute due to illness. The duchess was given doctors orders not to attend the engagement after falling ill with a chest infection over the last few days.