Jane Fonda proves slick pantsuits work for a night out at any age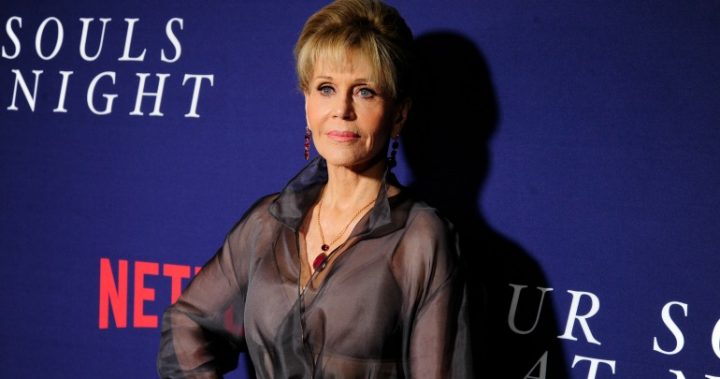 Actress Jane Fonda isn't afraid of experimenting with her fashion; she'll try anything sheer, sparkly, vibrant or risqué. But if there's one thing Fonda can come back to time after time, it's a classic pantsuit. 
The Gracie and Frankie star walked the red carpet for the Women's Media Center Awards on Thursday in New York City, along with numerous other stars and political icons such as Hillary Clinton. The carefully-tailored lines of Fonda's all-black outfit suited the 79-year-old perfectly. 
Fonda swept back her long blonde bob in a familiar style, using the shape to show off her enormous glittering diamond earrings. A simple gold necklace with diamond accents gave the ensemble a bit of colour.
Read more: Jane Fonda and Robert Redford shock with embarrassing new film title 
Ad. Article continues below.
The subtle shimmering detail and chic flair cut of Fonda's blazer perfectly complemented the outfit of feminist icon Gloria Steinem, with whom Fonda and Robin Morgan co-founded the Women's Media Center in 2004. 
Steinem, at 83 years old, proved that you're never too old to work some sequins into your ensemble as she turned up the bling factor in a dazzling black pantsuit of her own. 
Read more: Jane Fonda: 'Why I'd love to film more saucy sex scenes' 
Ad. Article continues below.
Fonda and Steinem had teamed up for an interview with MSNBC the day before, touching on the topic of race and sexual harassment. 
"It feels like something has shifted," Fonda said in the interview. "It's too bad that it's probably because so many of the women that were assaulted by Harvey Weinstein are famous and white and everybody knows them. This has been going on a long time to black women and other women of colour, and it doesn't get out quite the same." 
Read more: Jane Fonda shocks in revealing gown at film premiere
Fonda came under fire recently when she revealed that she'd known about Harvey Weinstein's sexual misconduct for more than a year and done nothing about it. 
"I found out about Harvey about a year ago and I'm ashamed that I didn't say anything right then," Fonda said in an interview with Christiane Amanpour. "I was not that bold because I guess it hadn't happened to me so I didn't feel it was my place." 
What do you think of Jane Fonda's black pantsuit?