Jane Fonda and Robert Redford shock with embarrassing new film title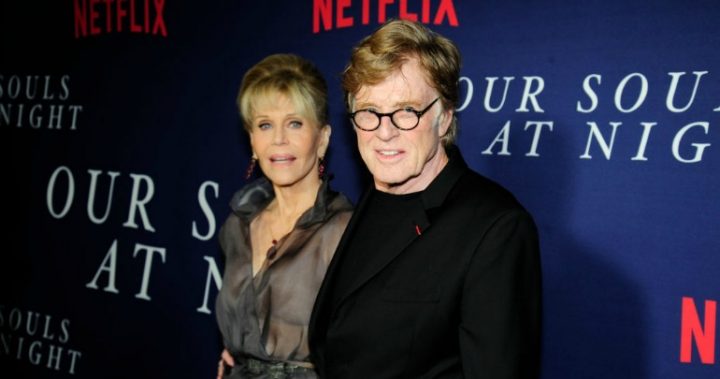 Jane Fonda and Robert Redford have joined forces to appear in a new Netflix movie aimed at older audiences, but the title of the film has sent social media into a frenzy.
Our Souls at Night is about Addie and Louis, a widow and widower who have been neighbours for years.
The pair have an almost non-existent relationship – until Jane's character makes an unusual attempt at connecting with her neighbour.
You may be thinking that the title sounds perfectly fine, but many have picked up that it sounds particularly rude when said with a British accent.
Ad. Article continues below.
If you don't believe us, try saying the title out loud in your best English accent, being sure to sound out the "our" as "ar".
British actor Rufus Sewell noticed a billboard promoting the new film in Los Angeles and took to social media to let his followers know how weird it sounds in his accent.
He explained: "Maybe it sounds more family friendly in an American accent."
Maybe it sounds more family friendly with an American accent. pic.twitter.com/t4qgBXhfI8

— Rufus Sewell (@FredrikSewell) September 25, 2017
Ad. Article continues below.
Fans on social media were quick to offer their own hilarious film titles.
One suggested: "How about the Bollywood remake 'Our Souls on Fire'?"
Another joked: "Can't wait for the sequel The Sun Shines Out of Our Souls," while a third quipped: "Could have been worse. Could have been 'Our Souls Ignite.'"
Despite the backlash online, Netflix revealed that the title would not be changed when the film is released in the UK later this year.
A spokesperson said: "We're aware of how it sounds to some British ears. But the film has had this title for months.
Ad. Article continues below.
"There are no plans to change the title for the UK market."
In fact, the film is based on a book of the same name by author Kent Haruf.
The film is the fourth that Jane and Robert have worked on together. Their other projects have included The Electric Horseman, The Chase, and Barefoot in the Park.
Do you have a funny sequel name for Our Souls at Night? We'd love to hear it.