Jane Fonda shocks in revealing gown at film premiere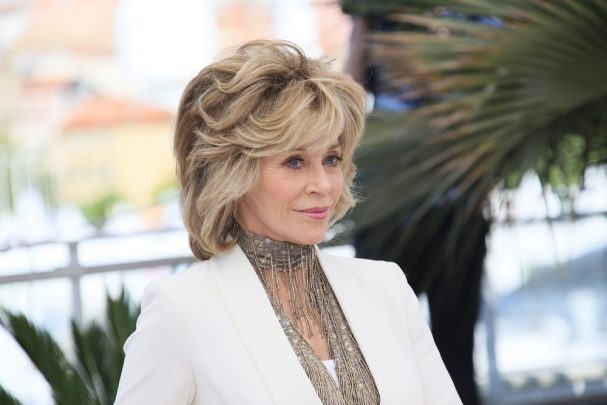 Jane Fonda has once again proved that she'll give anything a go in the fashion stakes. All eyes were on Fonda as she stepped out in a bold see-through gown at the premiere for her new film, Our Souls at Night.
The film stars Fonda and Robert Redford in a tender neighbours-with-benefits situation that enables them to enjoy easy marital intimacy without necessarily engaging in a sexual relationship.  
This isn't the first time Fonda and Redford have joined forces on-screen. The dynamic duo first came together for Tall Story in 1960, but it's been 38 years since they last starred opposite each other in The Electric Horseman. 
Fonda looked far younger than her 79 years of age in the outfit, which follows the now-familiar celebrity trend of being sheer enough to show off a surprising amount of skin. Fonda didn't go as far as younger celebrities, however, who make their brightly-coloured or lacy undergarments just as much of a fashion statement with these types of gowns. 
Ad. Article continues below.
With her hair swept back in a sleek up-do and just a few accessories to offset the outfit, Fonda boldly stared down the cameras and posed for photos. 
Her youthful appearance has also been in the news lately, with TV host Megyn Kelly trying to start a conversation about the plastic surgery Fonda has admitted to having in the past. 
Ad. Article continues below.
Fonda wasn't having any of it, however, since she was on Megyn Kelly Today to publicise Our Souls at Night. 
"You've been an example to everyone in how to age beautifully and with strength and unapologetically," Kelly began, then asked about previous comments, in which Fonda said she wasn't proud of having plastic surgery. 
"We really want to talk about that now?" Fonda said, looking annoyed. 
"Well, one of the things people think about when they look at you is how amazing you look," Kelly said, trying to smooth things over. 
Fonda thanked her for the compliment, but said it was all down to good attitude, good posture, and taking care of herself. 
Ad. Article continues below.
"But let me tell you why I love this movie that we did, Our Souls at Night, rather than plastic surgery." 
All things considered, it may have been a fairly gentle rebuke, but Fonda made her feelings clear. 
What do you think of Fonda's outfit?