Bend It Like Beckham! Nana outshines youth with amazing soccer skills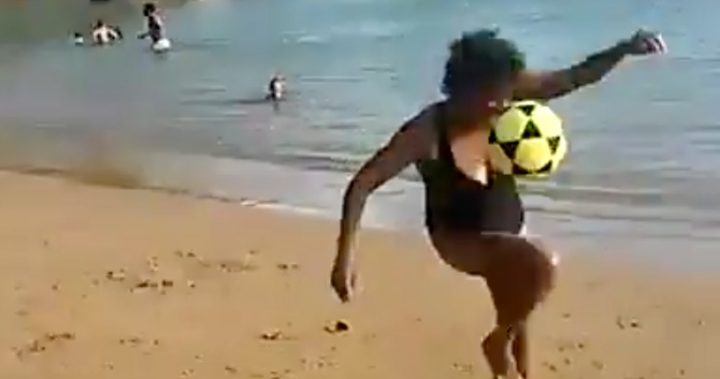 When most people think of Baby Boomers, they usually associate them with bingo halls, knitting needles and cardigans. One sassy grandmother is proving the world wrong with her impressive soccer skills.
In a video that is going viral, a 67-year-old Brazilian woman has shocked onlookers at a beach and many more online with her incredible sporting abilities. Her great-nephew Bailey Kontor uploaded the footage to Twitter just four days ago and it has already been viewed more than half a million times. "Just found out my 67 year old great aunty is better than sissoko at football," he wrote.
In the clip, the lady is dressed in a black bathing suit as she juggles the ball with her feet, head and knees. A small crowd begins to gather as the woman manages to keep the soccer ball off the ground without using her hands. At one point, she manages to bounce the ball behind her neck, showing off her flexibility. The crowd begins to clap and cheer for the nana as she continues to keep the ball moving.
Just found out my 67 year old great aunt is better than sissoko at football pic.twitter.com/HUho9EKiHi

— Bailey Kontor (@Baileykontor) January 26, 2018
Ad. Article continues below.
At one point, she twists around and continues to bounce the ball with the back of her heel, while she also manages to keep it bouncing off her knees and skins. It appears that she leaves her most impressive trick until last. After keeping the ball bouncing more than 100 times, the nana then shocks onlookers by performing the splits.
Fans couldn't get enough of the video and quickly left comments for the unknown grandma. One person wrote: "Love the way even in dropping the ball she puts everyone to shame by doing a perfectly executed splits." Another said: "All I got to say is I'm jealous lol you go auntie." A third comment read: "What an inspirational woman."
The video comes after news reports suggested that playgrounds for over-60s could soon take the world by storm. The government is currently considering the introduction of play equipment for Baby Boomers in Canberra, following the craze in America, Germany, England and India.
Health experts suggest that playgrounds will not only be better for the health of over-60s, but also allow them to socialise and interact with other members of the community. If this lady is anything to go by, they could be a roaring success.
Ad. Article continues below.
What do you think? Do you like to play sports of keep active? What sports did you play when you were younger?
---
With Facebook removing news sites from your feeds we ask that you sign up for Starts at 60's emailers here. And to keep us on your wall, join some of our new Facebook groups and clubs:

News Junkies Club – Australia
News Junkies Club – USA 

See news on the change and links to all our other clubs and groups here.