Bernard Tomic reveals real reason behind bratty behaviour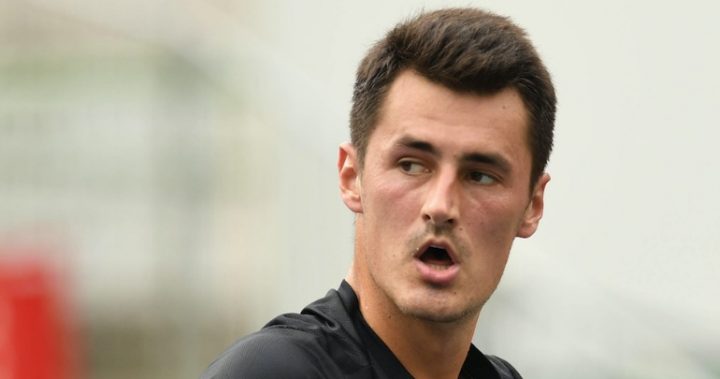 He's one of Australia's most controversial athletes, but 25-year-old Bernard Tomic says there's a perfectly good reason for his bratty behaviour.
While he's known both on and off the tennis court for his outrageous attitude and out of control temper tantrums, the Gold Coast local has said his upbringing is to blame for his bad boy reputation.
Speaking exclusively to The Sydney Morning Herald, the former world number 17 said that growing up in the spotlight didn't help. "I didn't know any life apart from tennis since I was eight years old," he said. "I was just a machine, training with my father … I didn't have a childhood; obviously, that took its toll."
Since then, he's had numerous run-ins with the police and has earned a reputation as one of Australia's bad boys. Last year, he infamously faked an injury to throw a match during Wimbledon. At the time, he suggested he was "bored" of the game and was ordered to fork out a $20,000 fine. Given that he's worth millions, it wasn't something he saw as a big deal. In fact, he later boasted about his significant wealth. 
He launched an attack on his haters last year, saying most tennis fans would never have the money or lifestyle he does. "End of the day, don't like me or whatever," he told the Sunday Herald Sun. "Just go back to dreaming about your dream car or house while I go buy them."
Ad. Article continues below.
If that wasn't enough, he was arrested in Miami in 2015 following drunken behaviour at a party, received three driving fines in one day in 2012 and got into a punch up at a spa in the same year. That's all in addition to his uninspiring comments about tennis legends including Lleyton Hewitt and Roger Federer. He's suggested that he regrets most of the things he's done in the past, but also pointed out that it's not uncommon for young people to make mistakes.
His past errors are part of the reason he decided to participate in this year's series of I'm A Celebrity … Get Me Out of Here! On Sunday evening, more than 1.2 million people watched as Tomic and nine other celebrities were thrown into the African jungle. Stripped of his prized possessions, the athlete said he wanted people to get to know the real him.
Other contestants and viewers at home were quick to call out Tomic for his ungrateful nature and past bratty attitude. One contestant, model Simone Holtznagel, said she wasn't the least bit impressed by Tomic. "I don't go, 'oh, that's Bernard Tomic the tennis player'. I go, 'that's Bernard Tomic, the guy that everyone thinks is a major w*****," she said upon his arrival.
Ad. Article continues below.
Meanwhile, viewers at home took to social media to share their hopes that Tomic comes out of the show a better person. One fan wrote: "I hope he will come out of this a better person than his public persona represents." Another said: "He's going to be interesting to watch if he wants us to see a different side to him. I hope he does."
I think we should now understand why Bernie does what he does. One show in and I think he is just not that smart….how little will tell. Hope he proves me wrong lol

— Justin Uilderks (@friejuz38) January 28, 2018
I hope he will come out of this a better person than his public persona represents

— Graham in Australia ???????? (@GrahamBSydney) January 28, 2018
Ad. Article continues below.
He's reportedly been paid millions for his stint on the reality show, but it appears producers are already making him work for his money. On the first episode alone, Tomic was forced to skydive out of a plane, was covered in elephant poop and animal guts as part of a task and even put his hands into a cage with snakes. That challenge saw Tomic get bitten several times and seek medical assistance from health professionals on the set of the show.
How about poor Bernie getting bitten multiple times by a snake tonight ???? #ImACelebrityAU pic.twitter.com/8leoXNmbLe

— #ImACelebrityAU (@ImACelebrityAU) January 28, 2018
The public have the chance to vote for celebrities they want to see perform in scary and gruesome tasks. Anthony Mundine is set to cause drama when he enters the jungle in Monday night's episode.
Is it fair for Bernard to blame his upbringing on his behaviour? Should he be rewarded with millions to appear on reality TV?
Ad. Article continues below.
---
With Facebook removing news sites from your feeds we ask that you sign up for Starts at 60's emailers here. And to keep us on your wall, join some of our new Facebook groups and clubs:

News Junkies Club – Australia
News Junkies Club – USA 

See news on the change and links to all our other clubs and groups here.