Elton John storms off stage as fans get too close for comfort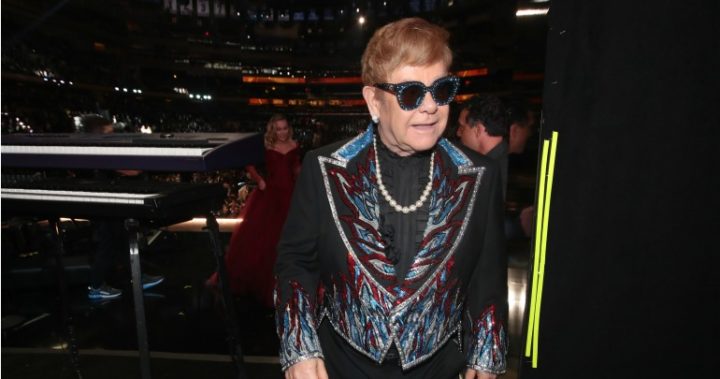 He's been entertaining the masses for decades but it seems that even Elton John has his limits.
TMZ has posted footage of the 70-year-old having a meltdown on stage in Las Vegas as fans get a little too close for comfort. The star, who has always thanked fans for supporting him through his career, lashed out at fans a recent concert.
Footage shows fans taking to the stage after being invited by Elton to join him on stage for a singalong. As he sat behind his piano, fans could be seen reaching out to touch Elton, his instrument and his microphone.
"F*** off," he can be seen screaming at fans. They don't seem to be listening to their idol and continue to tap him on the shoulder and fiddle with his microphone. Elton tries his best to continue with his song, but continues to be distracted by what's happening on stage.
Ad. Article continues below.
He starts swearing at the fans again and although does his best to carry on, the fans eventually  get the better of him. Mid-song, he storms off stage, leaving his band to continue playing in his absence. The people who were filming the concert said that those on stage "ruined it" for everyone else.
They said it looked as though the fan was trying to get a high-five from Elton. The lights on the stage were quickly dimmed after the incident and it looked as though Elton wasn't going to be returning to the stage.
He decided to return again, but not before issuing a warning to fans. "No more coming on stage on 'Saturday Night'," he said. "You f***** it up."
Fans were quick to side with Elton John over the behaviour of fans on stage. One person wrote: "Have a little respect. Keep your hands to yourself. Would you like constant hands in your face when you're trying to do your job?" Another person added: "Fans have to always ruin it for everyone". Others said that Elton should have played on and asked him to stop acting like a diva, particularly because some fans paid $1,000 for their tickets.
It's not the first time Elton has had trouble on stage. Last month at Caesars Palace, the 'Rocket Man' singer became dazed and confused when a fan threw beads on stage at him. The beads smacked the singer directly in the mouth, causing him to pause the concert while he checked to make sure none of his teeth had fallen out.
Ad. Article continues below.
Elton doesn't have too much longer to put up with overzealous fans. In January, he announced at a press conference that he would be retiring from touring after a lengthy series of concerts around the world. He suggested that he wanted to spend more time with his two children, Elijah and Zachary.
"I can't physically do the travelling anymore," he said at a press conference in New York City. "I want to be at home. I really want to spend time with my children at home. I've had an incredible life, but life is all about to change."
What do you think of the latest incident? Was Elton being a diva, or do overzealous fans ruin it for everyone else?