Elton John pauses performance as fan gift hits him in the mouth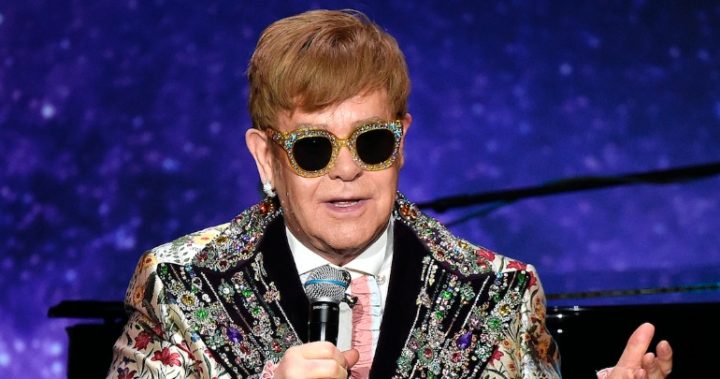 He's been performing to fans around the world for decades but a recent concert in Las Vegas left Sir Elton John feeling frazzled.
The 70-year-old, who was performing to an audience at Caesars Palace earlier this week, was left visibly shaken when a fan decided to throw some beads on stage at their idol. While it's not uncommon for people to throw things such as flowers or teddy bears to singers on stage, this particular "gift" was one that Elton didn't see coming. Unluckily for him, the whole thing was captured on video.
In the clip posted by gossip website TMZ, the father-of-two can be seen sitting behind his piano and belting out an incredible rendition of 'Saturday Night's Alright for Fighting'. Out of nowhere, the beads fly from the audience, over the piano and hit Elton smack in the middle of his mouth.
The singer immediately stops singing, confused by what's happened. He can be seen putting his hand over his mouth, trying to figure out what's happened. His band continues to play as some men quickly rush to his aid.
Ad. Article continues below.
It takes a while for Elton to get back to the music. He adjusts his glasses, looks a little dazed and can be seen checking to make sure all of his teeth are still in place. He appears to be bleeding at one point, with staff giving him some tissues to wipe his mouth.
Seconds later, he's back into the music and the concert continues on. It's believed that the beads were left over from Mardi Gras in New Orleans.
Fans were quick to comment on the incident. One person on YouTube wrote: "I think it hurt his feelings more than his lips". Another comment read: "I didn't laugh at all. I didn't even think it was funny. It was stupid of someone to throw beads at him. Elton probably got scared and thought it was something else". A further message read: "The show must go on … Good on him for not letting it ruin his day, like most musicians now would do".
It comes as Elton announced he would be retiring from touring in a few years. The star held an emotional press conference in New York City last month where he said he would perform to the world during one last tour, before focusing on his two sons, Elijah and Zachary.
"I can't physically do the travelling anymore," he said. "I want to be at home. I really want to spend time with my children at home. I've had an incredible life, but life is all about to change."
Ad. Article continues below.
What do you think? Are you surprised that fans would throw objects on stage at Elton?
---
With Facebook removing news sites from your feeds we ask that you sign up for Starts at 60's emailers here. And to keep us on your wall, join some of our new Facebook groups and clubs:

News Junkies Club – Australia
News Junkies Club – USA 

See news on the change and links to all our other clubs and groups here.