Collie Grace featured in all of the photographs, including one of the beloved pooch posing alongside Mary as the princess gently scratches her ear. Another photo shows Grace lying in the snow alongside nine-year-old Prince Vincent who is smiling sweetly at the camera.
"A greeting from Switzerland where Grace enjoys life in the mountains and snow," the caption shared alongside the images read.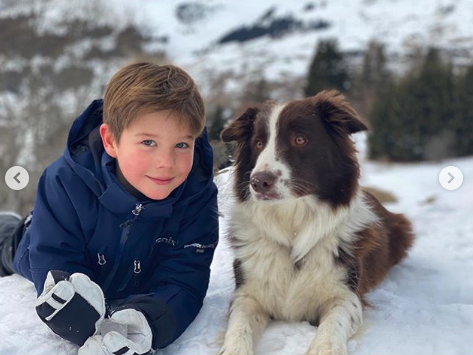 Mary also shared three portraits of Grace, who became part of the family in 2017, following the death of their previous dog Ziggy.
The family announced Grace's arrival in July 2017, with a social media post that read: "Yesterday the Crown Prince family welcomed their new dog Grace at Gråsten Castle. Grace is a border collie and is from the same family as the family's former dog Ziggy."
It's not clear whether the photographs were taken on the same skiing trip which resulted in Crown Prince Frederik needing to undergo surgery after he injured his shoulder on the slopes.
Last week the royal household issued a statement which confirmed that the heir to the throne had been admitted to hospital in Copenhagen for treatment, adding that the surgery had gone "according to plan".
"His Royal Highness The Crown Prince suffered a minor injury in the left shoulder last week in connection with skiing in Switzerland," the Danish royal family said in a statement on Tuesday. "The Crown Prince has therefore today been examined and treated at the Rigshospitalet in Copenhagen.
"The treatment consisted of an uncomplicated operation, which proceeded according to plan. The shoulder injury does not affect the Crown Prince's official program."
The couple have spent a lot of time in Verbier in recent months after enrolling all four of their children at the Lemania-Verbier International School back in January. At the time they hoped the three-month stint would give Prince Christian, 14, Princess Isabella, 12, and nine-year-old twins Prince Vincent and Princess Josephine a "common experience".