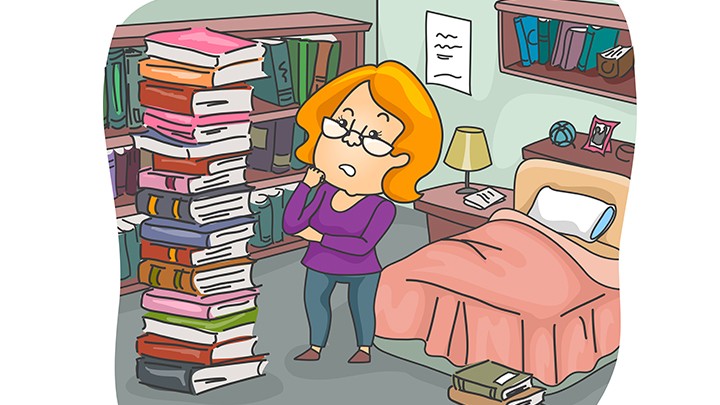 Hello everyone
Today we offer you a new section in the Book Club called Saturday on the Couch. As the name implies, this is a forum for matters bookish, something to sit back, relax and enjoy reading what is happening in the world of books. 
The 2nd and 4th Saturdays highlight the Dymocks and Hachette Book of the Month. On the other Saturdays, there will be posts from Australian authors and from our book reviewers. And of course, the picture wouldn't be complete without some regular blogs from you.
Today, Vivienne Beddoe shares a confession about her piles and piles of books.

Karen
I know the theory. You have the number of bookcases to suit your home and you cull books. And I do. I frequently donate to the Lifeline Book Fair. But I've still got books in piles and books in unlikely places.
At Christmas time, one of my granddaughters opened the cupboard under the one where the peanut butter is kept, expecting a little treat. 'But, Grandma. You've got books in here!' And I have. A shelf of cookbooks, two deep and a shelf of photo albums chronicling our family from the nineteenth century.
The linen press is no better. There is a shelf of children's books mixed with study guides from the teenage years.
The coffee table has a shelf meant for those arty coffee table books. There are some of those, but it's mainly more recent photo albums, magazines, a large street directory and some DVDs.
Under my desk is a pile of books I have been lent or reviewed. Two of those I was recently able to pass on to my sons-in-law. Some are still to be read, some will be passed on. One book I purchased from my Dymocks reviewer's voucher.
Beside my bed is the current reading, and the books my husband has read and asked me if I'd like to read. The current book is a book about Paris during the occupation during World War 2. The previous book was a lighthearted novel about a baking competition.
Sometimes there's a book beside my chair, hidden under my knitting. At the moment there are two – cookbooks that arrived just the other day to review.
Obviously, there's some serious 'decluttering' to be done! I'm sure I have a book about that somewhere!
Do you share Vivienne's dilemma, too many books and not enough shelves or cupboards to hold them? Where is the strangest place you have seen/hidden a book?
Join the Starts at 60 Book Club for more great reading recommendations!



Comments