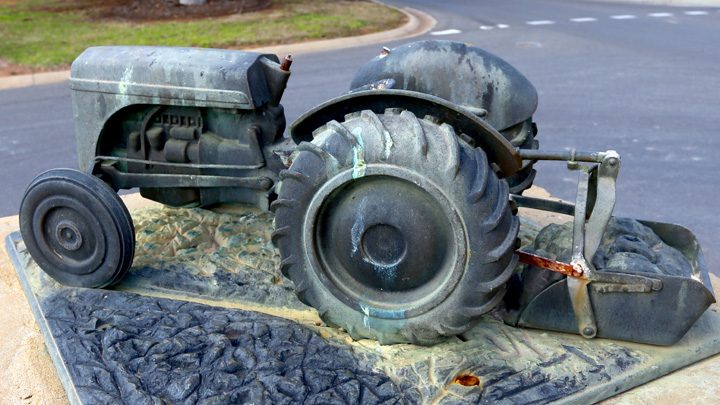 June marks an anniversary about which a surprising number of Australians know little or nothing: It is 60 years since the town of Wentworth was saved by a tractor, the Little Grey Fergie.
There was above average rainfall through the years 1954, 1955 and into 1956. It was what we commonly refer to as La Niña, and a prolonged event that caused widespread flooding in areas of Queensland, New South Wales, Victoria and South Australia. The abnormal rainfall had two severe effects. It raised the level of the water table, lifting groundwater salt to the surface and thus ruining a lot of otherwise arable land, and the ground became so saturated it retained no capacity to absorb further precipitation.
Unlike flash floods in undulating terrain, those in the predominantly flat country through which the Murray and, especially, Darling Rivers flow are more turgid, pushing over river banks and spreading out across the land. Additional rain in catchment areas increases flows which can no longer be accommodated in the river channels and must then push out slowly, relentlessly, ever further onto surrounding lands.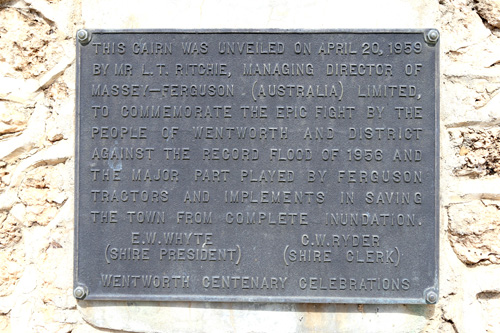 People downstream along the two mighty rivers, the Murray and the Darling, knew for many weeks ahead there were floods on the way. The problem was that nobody knew just when they would become a major problem.  orecasting was an undeveloped art and, to a great extent, dependent on local postmasters noting river levels and telegraphists passing on warnings. The 1956 event brought a realisation that better forecasting was needed and more funding was made available to the Bureau of Meteorology for such purpose.
Rains in the Queensland and New South Wales catchment areas pushed a greater weight of water downstream and Wentworth, the town at the confluence of the two great rivers, was in dire straits. People feared it would be entirely submerged. Urgent action was called for.
An unlikely saviour existed, although nobody had given it great thought until a local farmer came up with a suggestion that proved a true townsaver. Post WW2, the government had established a soldier settlement scheme, putting returned servicemen on 20-acre blocks in the Sunraysia. Every one of them was provided with a Ferguson tractor. Designed by an English engineer, Harry Ferguson, these were small tractors, light, functional and entirely brilliant in concept, with as many as 100 different implements of coordinated design capable of fitment to their two-point linkage or other parts of their chassis as necessary.
A lot of people were evacuated – hundreds, in fact – but many more remained. An intense period of work saw man and machine coordinate to build miles of levee banks to save the town. Dozens of farmers and their little grey Fergies turned out, working continuously to fill sandbags, to drag and dump and compact soil embankments. It was an around the clock effort, stopping only briefly to pee, to eat and to top up fuel tanks. Human and mechanical workmates teamed together to cut out, carry and dump loads of dirt in rotation. The army lent a major hand and the town was saved.
Wentworth created a monument to the Ferguson tractor. It bears a plaque that reads, in part:
THIS CAIRN WAS UNVEILED ON APRIL 20, 1959
BY MR L. T. RITCHIE, MANAGING DIRECTOR OF
MASSEY FERGUSON (AUSTRALIA) LIMITED,
TO COMMEMORATE THE EPIC FIGHT BY THE
PEOPLE OF WENTWORTH AND DISTRICT
AGAINST THE RECORD FLOOD OF 1956 AND
THE MAJOR PART PLAYED BY FERGUSON
TRACTORS AND IMPLEMENTS IN SAVING THE
TOWN FROM COMPLETE INUNDATION.
A wonderful tribute to the men and machines that worked so hard and so well to help their town keep its head above water.
Share your thoughts below.
Comments