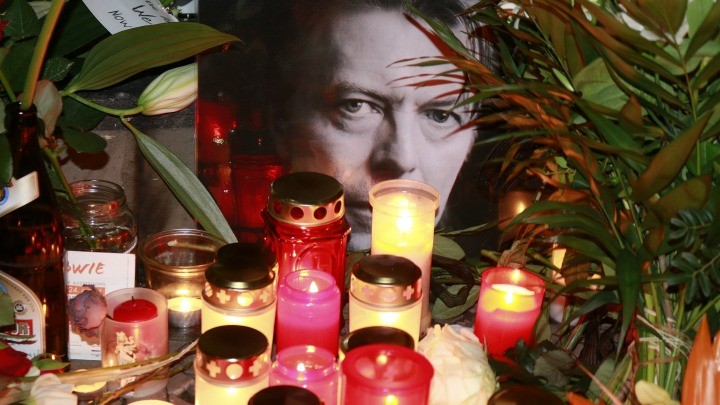 Love him or not, David Bowie's death has sparked a response that is heartfelt and rare. I always enjoy playing his Drummer Boy duet with Bing Crosby each Christmas and it will have even more significance next Christmas.
It may be a coincidence but in the past few days as I have been doing a bit of travelling, I have been reminded about the importance of social justice. There would be those on this site who would label me a rabid leftie, but at this point in time, I am so disheartened by the political scene, I find myself in the position of being apolitical. My big cry out is for social justice and often I have been too afraid to actually state my point.
Listening to the impact that someone like David Bowie has had over the years has pricked my conscience. He has not only left a legacy with his music and his courage in daring to be different, he has left an enormous imprint because has never been afraid to fight for social justice. I listened to the passion of people who had been personally touched by him. One young man in tears as he recounted that David had inspired so many people to believe that they could be anything they wanted to be.
I have never felt that he has allowed his ego to affect his day to day existence. Many years ago I lived in Port Douglas opposite a resort. One day on the beach I was sure that I saw David Bowie but in those wonderful days, the locals did not make a big thing about celebrities and they were left to wander about the town without any fuss. Apparently David was staying in this quite modest resort and when he went to pay the bill, he thanked the owner, a good friend of mine, for keeping his identity secret as he had booked in as David Smith. We have never forgotten her reply – "Well who are you?" He was not at all offended and thought it as amusing as we did.
While driving I listened to an interview from the Melbourne Writers' Festival. It was with the English writer Will Self. When my husband was alive we used to imagine what it would be like to have a dinner party with some really interesting people. Will Self was high on our list as not only is he a great writer, he is funny and incredibly irreverent. I had not thought about him for some time so was keen to hear what he had to say and he did not disappoint. The main thrust of his interview was his concern for the death of social justice. He has always been a keen humanitarian but his concerns were heightened when Britain became involved in the war in Iraq.
Then I heard parts of a speech given by Ellen Degeneres as she accepted her people's choice award where she urged us to be kind to one another, yet every day we hear of innocent people being bashed and the senseless misery being inflicted on those who are unable to defend themselves. It is heart breaking.
I was listening to all to these interviews and feeling a little guilty as I was going to visit 'the ex-husband's wife' – the one mentioned in the reprinted blog a few days ago – and I was feeling a bit resentful. It is an hour and a half drive and often when I get there I am confronted by an angry woman, suffering a dementia which has not sweetened her temperament. Listening to these people helped me to change my attitude about the visit and I am thankful that it allowed me to be more affectionate and patient.
Finally on my way home I listened to an interview with the leader of The Rescue Party in Cambodia who is fighting – without a great deal of success – the evil regime that dominates this very sad country. In 2001 I was asked to go there by a member of the royal family to do a feasibility study. I had almost forgotten about the anguish and desperation I felt. I returned home feeling that I hadn't achieved anything and I saw some of my own people adding to the corruption of this once beautiful country. I will write about my experience there soon, I only mention this because this man was describing the frustration he has with the rule of a corrupt law and the complete lack of social justice.
I don't feel I have done this subject justice. I feel so passionate about it and need to figure out a way to do my bit. I guess we can only start with the way we treat each other and I am reminded that this is probably one of the reasons that I was given the task of inheriting my ex-husband's wife. It has been a big learning curve.
Share your thoughts below:
Comments