8 home décor tips to make your home feel like a holiday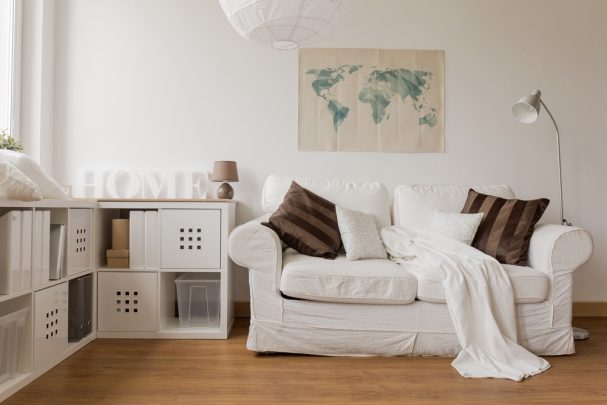 Once a holiday has been and gone it's often photos that bring us back to those travel memories. But what if you could turn your home into a stylish reminder of all the journeys you've taken across the world? Beyond the scrapbook and photo albums, here are some clever ways to make your home feel like a holiday.
Read more: Meet the world-travellers who's made knitting cool again
1. Maps as artwork
Ad. Article continues below.
We all have a country or a city that speaks to us in certain ways. For those destinations that you absolutely love, why not print out the maps of the areas that hold the most nostalgia and turn them into pieces of art. Every time you look up at them, you'll remember the fond memories that took place there.
2. World map
Ad. Article continues below.
If you're particularly proud of each and every one of the destinations you've visited around the world, this is your opportunity to put it on display for everyone to see. Every time you visit a new city or country, you can happily add another mark on the wall. This is a great conversation piece in the home, too, with guests being able to see clearly where you've been.
3. Transport stub canvas
Ad. Article continues below.
Instead of throwing away all of your used transport stubs from around the world, why not frame them and put them on the wall. They're likely to jolt your memory in between the routine of everyday life, and will perhaps inspire you to plan another trip.
4. Direction signs
Ad. Article continues below.
We've all seen them abroad, but you could create your own wooden travel signs and pop them up in your own home. Start with creating signs for each of the countries you've been to and then add the year that you travelled there.
5. Suitcase décor
Ad. Article continues below.
You might not use your old suitcase for travelling anymore, but that doesn't mean they can't be put to good use. Take them out of storage, dust them off and then stack them on top of each other to create a stylish storage area.
6. Artistic souvenirs
If you've been to Venice and bought a mask from the popular carnival, or any other colourful souvenir from your holidays abroad, get a little creative about how you put them on display. You could pop it on the bookshelf or draw, but hanging it on the wall will make it look like the true piece of art that it is.
Ad. Article continues below.
7. A very travel Christmas
The travel spirit can extend all the way through to Christmas, too. All you have to do is take some of your baubles and cover them in colourful maps. That way you can experience that extra bit of joy during the silly season.
8. Paintings and prints
Ad. Article continues below.
Ad. Article continues below.
Another great way to style your home with happy travel memories is to either buy or create your own painting or print inspired by the places you've visited. Hang them on the way and they'll become an endless source of conversation.
Do you have any travel mementos that you've used to style your home? Share them with us in the comments below.