Safe and tasty street food in Singapore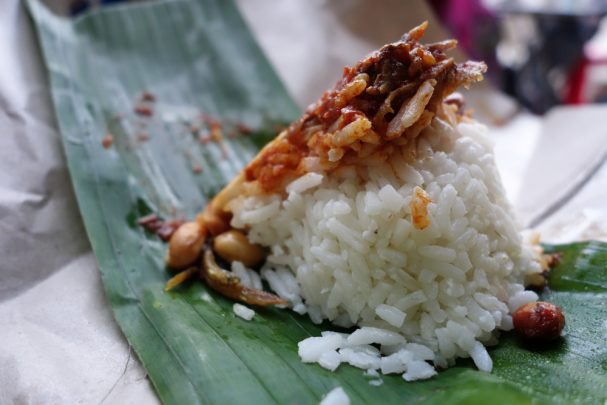 Singapore is heaven for food lovers, with an overwhelming number of fine dining options that range from Michelin-starred restaurants to top-notch Chinese fare.
But foodies shouldn't dismiss a humbler option – the city-state's street food, sold at so-called hawker centres, is not to be missed, whether your taste is for good ol' fried rice or more exotic dishes such as fish head soup.
Here's the insider's guide to hawker food.
What's a hawker?
Since the 1960s Singapore's street-food peddlers have operated from custom-built, semi-open air markets called hawker centres, each with numerous food stalls, free dining facilities and bathrooms, and "aunties" and "uncles" who clear the tables. There are more than 100 such hawker centres and other food markets across Singapore, where the food stalls are regularly inspected by the government to ensure strict hygiene standards are upheld.
Ad. Article continues below.
Dining hawker-style definitely doesn't mean giving up on fine food. Two hawker stalls hold a Michelin star, which denotes restaurants that offer "high-quality cooking, worth a stop": the ong Kong Soya Sauce Chicken Rice and Noodle at Chinatown and Hill Street Tai Hwa Pork Noodle at Crawford Street.
Some of the most famous hawker centres include the Maxwell Food Centre in Chinatown and the Newton Food Centre, which is close to Orchard Road shopping mecca. Other well-known centres are the Tiong Bahru Market Hawker Centre, notable for its Art Deco architecture and its spot in one of Singapore's hippest neighbourhoods, and Lau Pa Sat, the historical food centre in the financial district. The Tekka Centre is heavy on Indian food, while the Chinatown Complex (not to be confused with the Maxwell centre) is the biggest in Singapore.
Expect to pay a little more at the well-known hawker centres than those further from the city centre, but even the pricier centres remain a great deal for travellers, with a plate of chicken rice, arguably Singapore's national dish, costing as little as S$4.
How do you order?
There's an art to looking like a local at a hawker centre. Seating is unassigned and free so you can choose where to sit, although stall vendors may attempt to usher you to seating in front of their stalls. A packet of tissues, an umbrella or even a mobile phone (yes, really – Singapore's considered a very low-crime city) on an otherwise unoccupied table meant that it's been "choped" or taken already by someone who's gone to order food at a stall. Sharing tables is common, though, and it's not usually difficult to find a spot to sit.
Ad. Article continues below.
Once you've choped your own table – a packet of tissues comes in handy not only for marking your table but also because napkins or serviettes are rarely provided by hawker stalls – you should note the number on the table, then walk around the centre, ordering dishes and drinks from any stall that takes your fancy. Stalls with self-service signs require you to wait at the stall for your meal, but those without will take your table number and deliver the dish to you when it's ready. That means there's no neat courses and it's a mish-mash of food styles, but plenty of fun eating old favourites as well as trying new dishes.
Hawker centres are also great for juice lovers – there are always several stalls offering freshly-squeezed juices, including sugar cane and calamansi lime, and coconut water straight from the shell. Beer is also on offer but anything harder is strictly BYO.
What do you order?
Hawker centres have something for everyone, including chips and other Western staples for the unadventurous.
Some local favourites that are also easy on a palate not accustomed to a lot of chilli include chicken rice (tender slices chicken with steamed white rice and a tasty gravy), satay sticks, pau (steamed buns with filling, usually barbecued pork), char kway teow (stir-fried flat rice noodles), bee hoon (thin rice noodles), roti prata (crispy Indian pancake, served sweet with sugar or savoury with curry) and carrot cake (not cake or carrot, but an omelette made with rice flour and white radish plus garlic and eggs).
Ad. Article continues below.
Visitors looking to get a more unusual taste of Singapore could try fish head soup (much more appetising than it sounds), bak kut teh (pork ribs in a herbal broth), chilli or black pepper crab (sold by weight in hawker centres, with surgical gloves supplied for the messy feast), nasi lemak (a breakfast favourite comprising coconut rice with fried chicken or fish, egg, cucumber and a scorching sambal sauce) or rojak (fritters that can be served sweet with fruit or savoury with potatoes and egg).
Finish your meal by finding a dessert stall selling ais kacang, which is a mound of shaved rice, covered in sweet sauce and toppings such as red beans, sweet corn, palm nuts or peanuts and grass jelly.
Now you've really "makan", or eaten, Singapore style!
Have you wandered through the hawker centres of Singapore? What's your favourite dish? Let us know in the comments section below.