Red Centre Way: Free activities in Uluru on a self-drive adventure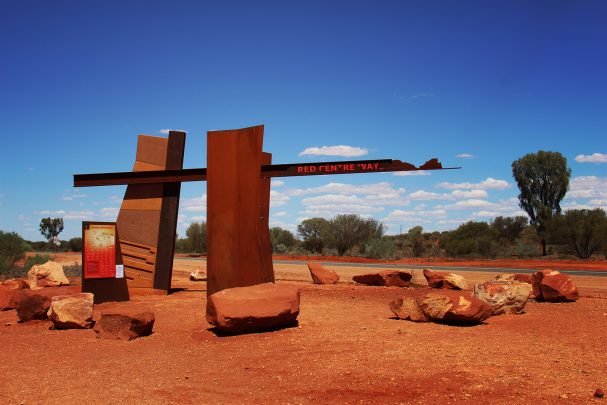 With ancient landscapes, inviting watering holes and deserts that appear to change colour at the sun's request, there's nothing quite like Australia's Red Centre.
And what better way to explore the ancient natural surrounds than by jumping in the car and traversing the Red Centre Way driving route, which makes its way from Alice Springs to Uluru- Kata Tjuta National Park, then back again, on a 1,135km loop.
Whether it's discovering indigenous art and culture, getting stuck into some local bush tucker or learning about Uluru from the local rangers, there are many things to see and do on this route and many of them won't cost you a cent. Here are just a few of the things that will keep you busy on a self-drive holiday through the region.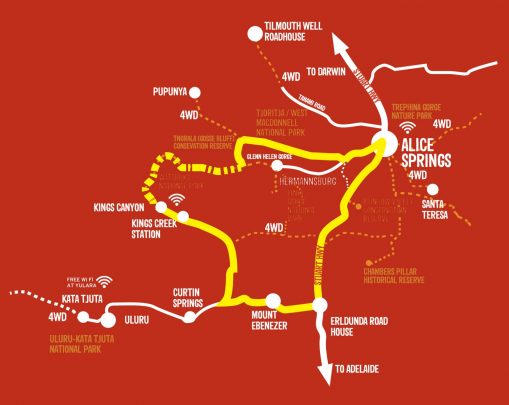 1. West MacDonnell National Park
Ad. Article continues below.
Your first stop from Alice Springs along the Red Centre Way is the West MacDonnell National Park, which is a stretch of natural landscape dotted by impressive gorges and waterholes. Whether you're going for a swim, a walk or just want to sit in awe of nature's beauty, these activities are all free and are a great introduction to the region.
2. Kings Canyon
If you're feeling particularly adventurous, and your fitness levels are in check, then the three-hour Rim Walk is a spectacular stroll along the 100m-high sandstone wall. Watch your step and take in the beautiful views of the surrounds. But if you're not feeling quite as active or adventurous, there's always the Kings Creek walk that can be tackled from the canyon floor and boasts just as impressive views.
3. Bush tucker experience
For those who are curious about Australian native fare and the fruits, seeds and spices that have flavoured local bush tucker for thousands of years, then the local indigenous people are at hand during free bush food experiences. Hosted by Ayers Rock Resort, you'll learn about the different plants and grains, the traditional cooking methods used and even experience a cooking demonstration with ancient ingredients.
Ad. Article continues below.
4. Guided Mala walks
Making your way to the Uluru-Kata Tjuta National Park, you can't go past the opportunity to go on one of the free guided walks in the area. Meet other travellers at the Mala Walk sign, where a ranger will meet you and guide you through a 2km walking track. The wheelchair-friendly route winds through the area while your ranger will introduce you to the history of the Mala people and traditional art and culture from the region.
5. Uluru
You could spend days getting acquainted with the iconic ancient landmark that is Uluru. The sandstone monolith stands at the heart of the Northern Territory's Red Centre and has been making its mark on the landscape for more than 500 million years.
Taller than the Eiffel tower, Uluru has more than 250,000 visitors each year who travel from all over the country, and the world, to stand in her shadows.
Ad. Article continues below.
Spend one day, or many, enjoying the free activities available in the area. Either get up early to watch as the sandstone and surrounding sky change colour at sunrise and sunset. Hikers might like the leisurely 10.6km walk around the entire rock so you can really get to know this Aussie icon.
"If you're considering a trip to the NT, you must visit the Red Centre," says Australian cricket legend, Matt Hayden, who recently visited the area with his family.
"It's an iconic Aussie location which is bursting with ancient and natural wonders.
"The Red Centre truly is the heart and soul of Australia's outback, and the enormity of the rocks and gorges you'll discover are truly powerful."
6. Kata Tjuta sunset
Ad. Article continues below.
Also known as the Olgas, Kata Tjuta is a group of stunning dome rock formations within the Uluru -Kata Tjuta National Park. But one sunset isn't enough in this region and after you've seen one at Uluru, head over to Kata Tjuta to soak up the quiet sun-bathed landscape with a view of Uluru in the distance.
7. Curtin Springs Station
Over a million acres in size, Curtin Springs Station is a privately-owned cattle station just off the Lasseter Highway on your way back towards Alice Springs from Uluru-Kata Tjuta National Park there are accommodation options available, guided walks and papermaking workshops, but you could just pay the area a visit and get a glimpse into how the station balances cattle production with wildlife conservation and protection.
8. Rainbow Valley
Before making your way back to Alice Springs, take a trip out to the 4,700-year-old meteorite crater at Henbury before taking in the breathtaking view of the sandstone bluffs of Rainbow Valley. It's thought that the meteor crashed into the earth almost 5,000 years ago, leaving 12 craters in the process. Once you're done contemplating just how big the universe is, jump in the car and drive back towards Alice Springs, which is just a 145km car trip.
What other free activities have you enjoyed in the region? Have you been on a self-drive trip through the Northern Territory? Let us know in the comments section below.