Prague holiday tips for travellers over 60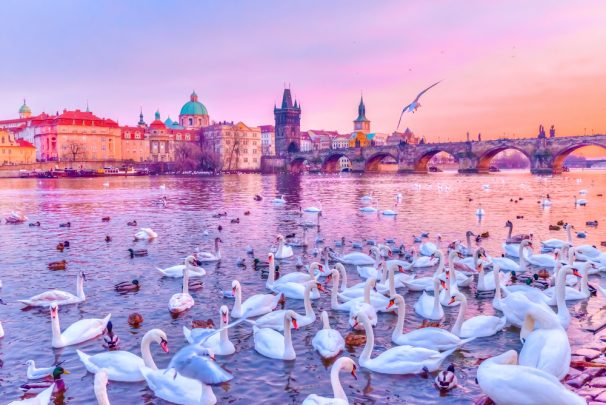 Prague is a beautiful ancient city and was left unscathed during the allied bombings in 1945, situated between hill and valley on the banks of the Vltava River and renowned for its beauty.
When I decided on the Elbe River Cruise I was excited that the adventure would begin in Prague. I wanted to see for myself the city's old world char, fairytale Gothic architecture and colourful Baroque buildings.
On the first day we took the bus from our hotel into the city and joined the throng of tourists milling around the huge centre square and wandered around ourselves.
Read more: Iconic European landmark left in ruins
We sunk some great beer and very salty goulash, procured and haggled some fine garnet jewellery, had some fun with the locals, tasted street food and was entertained by talented buskers.
Ad. Article continues below.
The next day we took the organised walking tour and bus trip. We walked across the Charles Bridge and then took a bus to the castle on top of the hill.
The view was amazing. There was a huge lineup to enter the Gothic Cathedral, but it was well worth the wait. Prague is definitely an interesting and beautiful city. A big tick off the bucket list!
Prague travel tips for travellers over 60:
Travelling as you get older can be tiring at times and I would advise to do your homework on the cities and countries you intend to visit.
If you have dickie knees like me and want a not so strenuous trip the river cruise was ideal. A more relaxed and slower pace. In my case our cruise director and tour guide made sure we were well catered for.
Prague is an easy city to get around and many of the interesting sites are within walking distance.
I would suggest comfortable footwear, a must as the streets are mostly cobblestones and a tad uneven.
Be aware of pickpockets.
Public transport is good, so if you have time there are tours outside the city to explore. Highlights of my visit to Prague were: St Vitis Cathedral, within the grounds of Prague Castle, the Roman Catholic Gothic Cathedral is the largest and most important in the Czech Republic, the Astronomical Clock beneath the old Town Hall, magnificent Prague Castle, Charles Bridge, Old Town Square, the Jewish Quarter, beautiful Baroque buildings and sombre and eerie Terezin Concentration Camp. 
Do you have any more Prague travel tips for travellers over 60? Let us know in the comments section below.