Passengers shocked by flight attendant's response to mid-air drama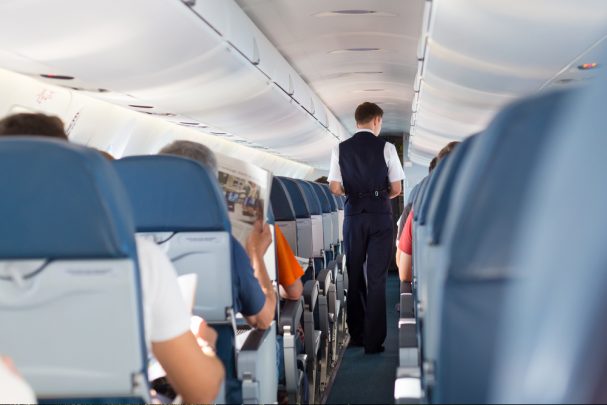 Travelling with a small child can be tough for all involved.  It can be stressful for the child, the parent, passengers on the plane and the crew.
When a child started to cry loudly on a flight in the US, it could have been annoying for many.  
One passenger, Carrie Jaboor, shared her feelings posting on Facebook, "My heart…there was a mother and her 2 young girls in front of me on the plane and the baby suddenly had a very loud crying fit that wouldn't stop."
It's a situation that many could relate too with the crew of the plane sometimes not getting involved.
However, as Carrie shared, one flight attendant did.  Carrie posted, "This Southwest employee asked the mother to come to the back of the plane with him.
Ad. Article continues below.
"I looked back and saw him blowing bubbles for the little girl until she stopped crying as he was also giving tissues to the mother and consoling her as she was crying too. There are some seriously kind people in this world."
Many shared their similar stories, Krystie Gross posted, "SWA did the same for me when my daughter was a baby. The attendants saw I was clearly flustered during the flight & my daughter would not settle. She came to me, asked if she could hold my daughter, and walked up & down the plane with her in hand, while doing her job, helping others. It gave me a much needed break, and calmed my daughter."
Another former customer shared a story about the "kind" employees of the airline sharing, "I was a super sick girl coming home from a cruise. Got to the Lauderdale airport a little too early before I could check in because all I wanted to do was just find a seat and try to let my medicine kick in. The agent fixed my flight by putting me on an earlier, direct flight at no extra cost to me. I'll never forget him going above and beyond for me."
A fellow crew member spoke on behalf of flight attendants posting, "Our job is hard, we work long hours, are constantly tired, and are far away from home. But I think I can speak for my Sky brothers and sisters when I say that we genuinely try to make your travels better."
Have you had an experience like this on a plane where the crew went above and beyond?  We would love to read about them in the comments below.