Over-60 travellers will love the Nut in Tasmania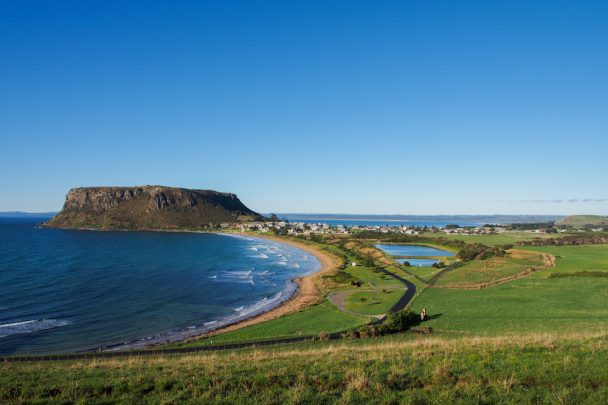 For a small island, Tasmania has a huge number of hidden secrets. The Nut in the north-coastal location of Stanley is one of them.
The pretty little fishing village nestled at the base of The Nut is a very easy hamlet to get around. It's quite scenic, has some wonderful historical architecture, cute little shops and cafes and a pretty coastline.
The Nut is a sheer-sided bluff – all that remains of an ancient volcanic plug. The view from the top is awesome and on a clear day you feel as if you can see Victoria as the blue-green waters lie ahead of you.
Read more: Holiday experiences you can only have in Tasmania
You have a choice of getting to the spectacular view at the pinnacle of The Nut by either a walking track that winds around The Nut to the summit, or you can take the chairlift, which has spectacular views across Bass Strait beaches and over the town.
Ad. Article continues below.
Being a fishing village, it has wonderful beaches to explore and wildlife is bountiful, including penguins, seals and water birds.
On the grasslands atop the Nut, even on a short bushwalk you can come across a pademelon, wombat or wallabies.
On the ground below, fishing is the main industry of the area and the port on the southern side of The Nut is also a regularly used fishing spot.
We stayed in one of the two highest accommodation locations in the town, Horizons Deluxe Apartments, which overlooked the Nut, the town and the harbour.
We rated our stay here a 15 out of 10 – it was just wonderful. The view was second to none. It was modern, well equipped, and it provided breakfast baskets that were as good as any four-star restaurant. It had a hidden laundry behind a louvre door complete with a washer and dryer, cleaning equipment, iron and ironing board – even an umbrella, just in case.
Ad. Article continues below.
Read more: Free things over-60 travellers can see and do in Tasmania
The main bathroom had a huge walk-in double-headed shower the size of which I had never seen. The open-plan apartment included floor-to-ceiling windows with electronic blinds and for viewing spectacular – a free-standing spa bath (all electronically operated) located right in front of the windows overlooking the whole town! We felt we had gone to heaven it was so sublime! An amazing stay in an amazingly beautiful location in a very special secret spot of this wonderful island.
Have you heard of The Nut? Let us know in the comments.