How to go over your luggage limit for a flight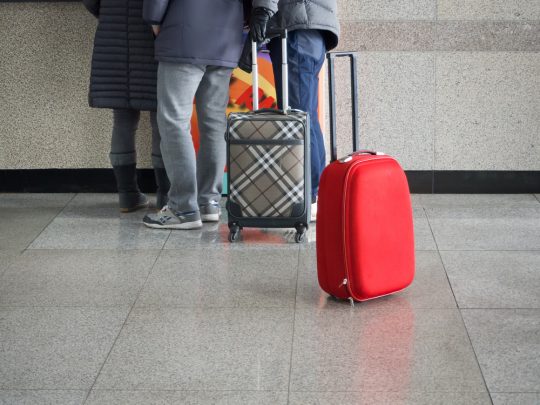 The thing about going on holiday is, we often come home with so much more in our suitcases than when we left. There are the souvenirs that are squashed into every spare nook and cranny, the extra clothing that you absolutely needed to buy, and how could we forget the little trinkets for the home that you simply couldn't bare walking away from at the local marketplace.
But what happens when you're at the airport, ready to check in for your flight home and the ground staff let you know that your luggage is over the weight restriction? Do you have to leave your beloved belongings home or pay a fee to make sure they make it onto the flight with you? There surely must be another way!
Well, there is good news because regular flyers and globetrotters have shared their own tips about how to go over the luggage limit without having to pay the fee and it is so simple that you'll be left wondering how you didn't come up with it first.
Read more: How to get your luggage off the plane first
As pointed out by popular travel myth-busting site, Today I Found Out, there are many reported accounts of people wearing their heaviest items to avoid being charged a baggage fee.
Ad. Article continues below.
Scottish musician, James McElvar, boarded his plane wearing "four jumpers, six T-shirts, three pairs of jeans, two pairs of jogging bottoms, two jackets and two hats".
McElvar decided to wear the heaviest items in his bag because because the airline wouldn't allow him to take his two pieces of hand luggage aboard – deciding to wear them instead.
What passengers should be aware of, though, is that wearing that many layers of clothing can cause you to work up quite a sweat and the onus is on the airline if they decide to allow a passenger to board the plane in such a state or not.
If you'd really prefer not to part with your hard-earned money or your extra luggage, then give it a go and hope for the best.
How to avoid excess luggage costs:
Know the limit before you holiday, that way you can prepare how much you need to pack before you go.
Weigh your bag before arriving at the airport, so you can remove items if you need to and aren't left rushing around at the last minute.
Make the most of your carry-on luggage. Stuff as much as you can into your carry-on bag, and wear your heaviest items.  
Would you be tempted to try this? Or are you happy to pay for excess baggage costs? Let us know in the comments section below.