Homeowner films very, very close encounter with cruise ship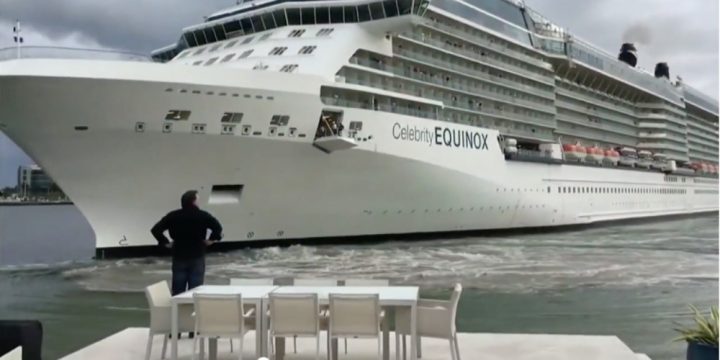 A Florida couple had a frighteningly close call with a giant cruise ship – when it almost ran over their home!
Bill Todhunter and his wife Yasmine told their local ABC 10 news station that he regularly saw cruise ships pass by their home at Port Everglades in the six years they had lived there, but had never seen one come as close as the Celebrity Equinox.
Yasmine caught the incident on film as Bill waved frantically and shouted from the backyard as the ship towered above their home, and he says the ship was close enough for passengers on deck to hear him and applaud in response.
Celebrity Cruises, the owner of the Equinox, told ABC 10 in a statement that the ship had remained in its "assigned channel" at all times and did not touch the bottom of the channel.
https://www.youtube.com/watch?v=AMRPJ7akbHk
Ad. Article continues below.
But Todhunter claimed the ship had to use its thrusters to back up before powering away, indicating it was not where it was supposed to be.
Celebrity Cruises is owned by Royal Caribbean Cruises, based in Miami, Florida. The Equinex is 317 metres long and weight 122,000 tonnes, with 10 dining venues and the ability to accommodate 2,850 passengers.
The local coast guard told ABC 10 that the ship's owners said cruise companies were required by law to report groundings, and that given they had not, its investigation had been closed.
According to Cruise Law News, another Celebrity Cruises ship, called the Infinity, hit a dock it Ketchikan, Alaska, after being hit by high winds.
Would you be comfortable living so close to a waterway for large vessels? Have you ever seen a similar incident?