Halloween traditions from around the world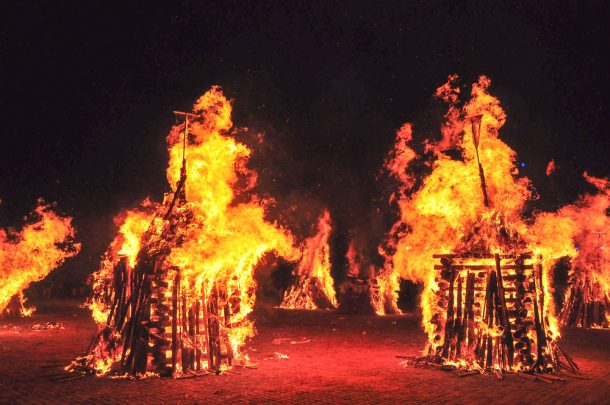 The most popular Halloween tradition might be from the United States, where small children dressed as ghouls and ghosts and walk around the streets asking neighbours for candy, but many other countries around the world celebrate Halloween and commemorate the dead in interesting ways. Here are just a few of the unique Halloween traditions from around the world.
Ireland
Ireland is said to be the place where Halloween originated and people generally celebrate the holiday in much the same way as people do in the US. Children will get dressed up in costumes and walk around their neighbourhood going trick or treating. The main difference is that people often leave an apple attached to a piece of string hanging from the outside the front of their house, which the kids have to try and take a bite from. Also, instead of sweets, fruitcake is often handed out.
Mexico
Día de los Muertos or 'Day of the Dead' is a Mexican celebration created to remember and honour people who have since passed. People get dressed up as their ancestors as a celebration of relatives and people who have passed away. They also create altars, present gifts and play music, all in celebration.
Ad. Article continues below.
England
Each year on November 5 people gather in parks and in their homes to burn bonfires and set off fireworks in memory of Guy Fawkes. Fawkes was an English traitor who was executed in 1606 after attempting to blow up an English parliament building.
Hong Kong
Hong Kong's Halloween equivalent is a celebration known as Yue Lan or Festival of the Hungry Ghosts, which is held to commemorate and remember the dead. People spend 24 hours celebrating and burn images of money and fruit so that these items will travel to the spirit world.
Austria
Ad. Article continues below.
Halloween is a much more relaxed affair in Austria, where people place bread and water out at night and turn on a lamp to welcome the dead souls who are now roaming the earth.
Haiti
Known for the Voodoo beliefs, in Haiti they celebrate what is called the Festival of the Ancestors, or Fed Gede. People light candles, pay their respects at the burial places of their dead relatives and drink chilli-infused rum.
Do you celebrate Halloween in your part of the world? Let us know all about it.