Discovering the wonders of Crete with a self-drive tour
Driving in Crete, which I will discuss later, is a lot different to Australia. We encountered many surprises around corners on country roads – anything from tractors to cows. Many of these contributed to our worst day whilst heading south into the mountains on our first day in Crete. Signage was appalling and our out-of-date map contributed to our being lost for two to three hours, arriving at Festos (according to the signs; Phaestos or Phaistos according to our guide book and maps) apparently too late to visit as it shut at 3pm.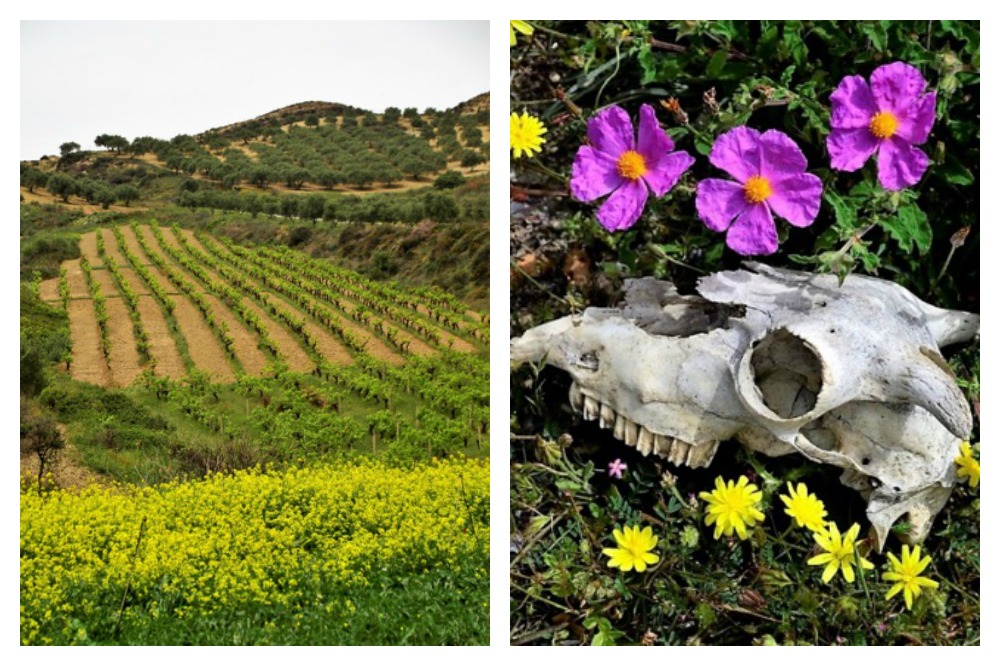 On the way we'd stopped a few times to admire the panoramic views, mostly of olive trees and vineyards, plus a couple of villages and some flowers. Somehow I don't think Lorraine approved of my picture of a goat's head set among some blooms. We pulled up at villages with names as diverse as Martha and Xeniako and by the time we reached Matala on the southern coast there was only time for a late lunch. Our lunch spot overlooked this pretty beach with the unusual headland dotted with caves that had been used for Roman burials and, later, accommodation for cave dwellers. It's also the place in legend where Zeus swam ashore in the guise of a bull with Europa on his back. He was a bit of a lad, that Zeus.
Read more: The myth and magic of Mykonos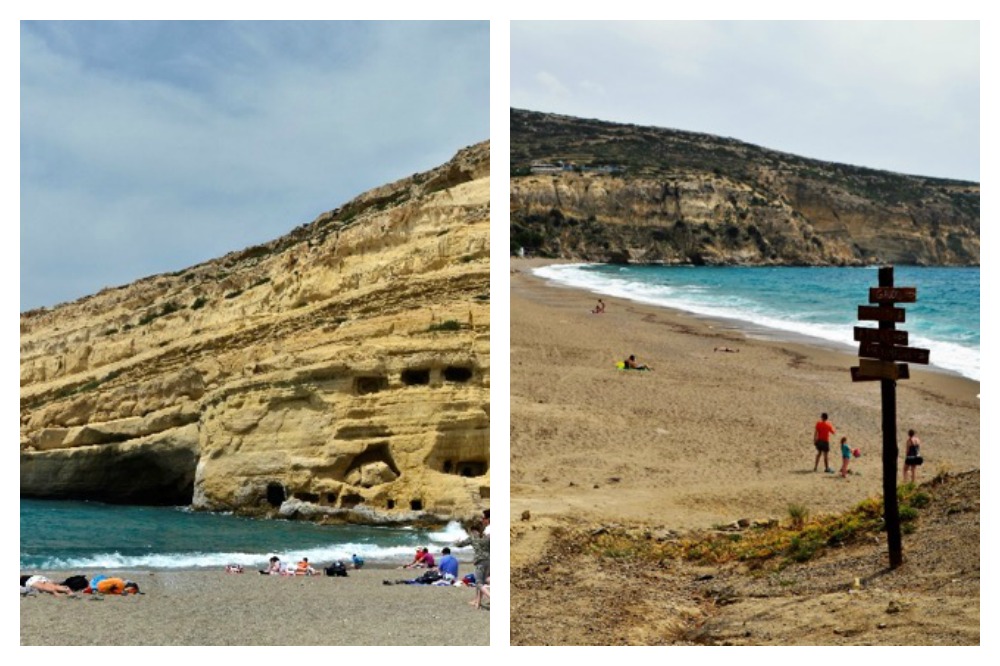 Ad. Article continues below.
Just over the hill is Komos, reputedly Crete's whitest beach (Australia has nothing to worry about) with an enticing Bunga Bunga bar, an interesting Minoan site and little else, save three sunbathers spaced about 200m apart. On the way home we found Festos (Phaistos) was actually open until eight so we stopped and had a look at this spectacularly sited Minoan town that had settlement of some form from at least Neolithic times around 4000 BCE. Then, from 1700 to 1900, three huge terraces were levelled, two of which had a palace erected on them. However, over time, two massive earthquakes had a profound effect on the site so that it had to be extensively rebuilt and this is much of what we see today.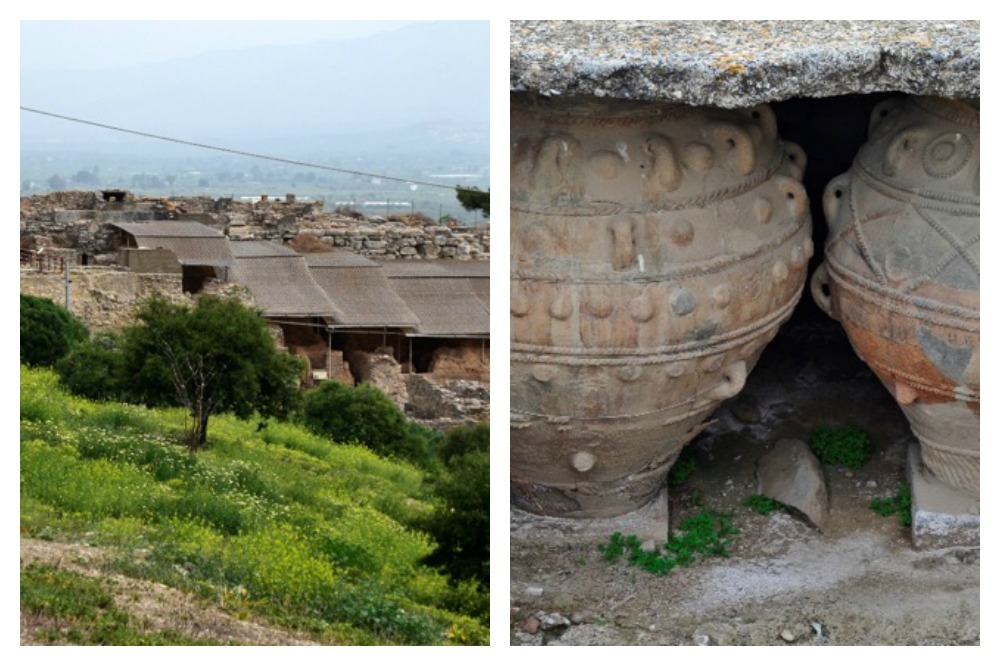 Speaking of seeing, you can't help but notice the absence of shiploads of tourists such as you find at Knossos; this makes for a much more pleasant wandering experience. There are numerous amphora and other items that have been uncovered, but nothing comes close to the Phaistos Disc for wonder. Decorated with 241 tokens of 42 signs, this currently untranslated 15cm disc is in Linear A, a Minoan language that remains undeciphered, unlike Linear B. It resides in the Heraklion Archaeological Museum.
Read more: Photos that will inspire you to put Greece on your bucket list
The magazine with pithoi (large storage jars) indicates just how much they relied on these for food keeping and you can imagine the amount of oils that must have been here and just how much they weighed. There are four koulores, round structures that the ignorant (my hand is up) might suspect are wells but, apparently, they're not sure what they were, though granaries is one of the strongest possibilities. The lustral basin in the king's great hall is not to be missed either, I quite fancied having a bath there.
Ad. Article continues below.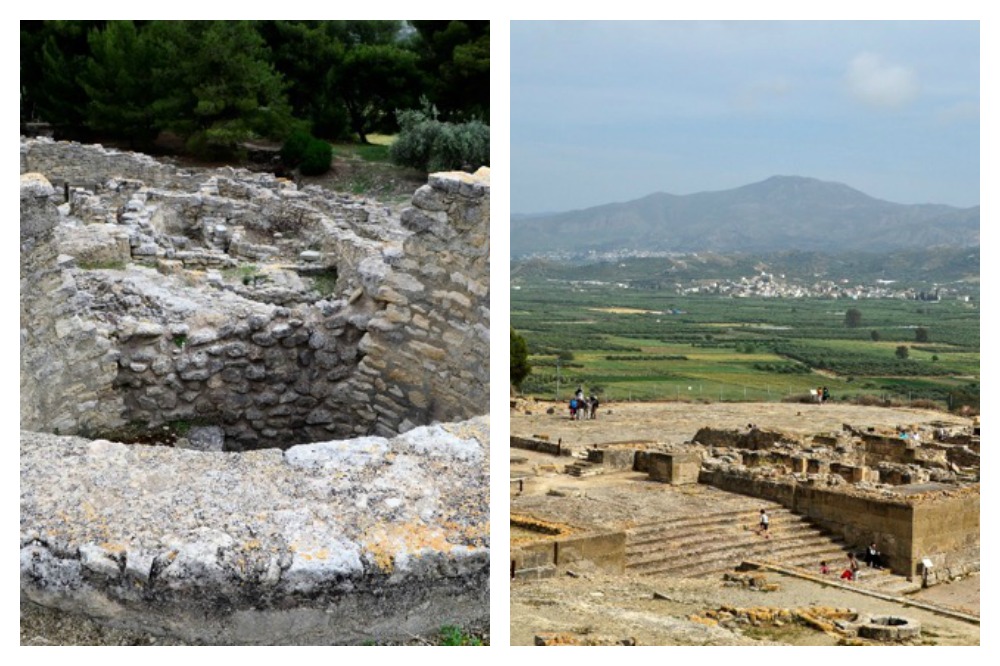 Festos seems to have declined in importance, while nearby Agia Triada became more prominent in later years. We admire the views from this historic site before finding the speedy way home, chopping three hours off our morning journey, much to Lorraine's pleasure.
Driving in Greece, as any Aussie who has done it will tell you, is different. I thought I'd lay out a few basics of what to expect, mainly pertaining to Crete.
1. How to park
Pull up, switch your engine off, and get out of your car – it's that simple. It doesn't matter where. Any signs or regulations may be ignored. However, if you happen to be double or triple parked, it is considered polite to switch your emergency blinkers on.
Ad. Article continues below.
2. Overtaking
Only in the event of you being in a one-lane village should you not overtake; there's probably not quite enough room, though, judging from all the side panel dings we noted, many have tried. While driving along a two-lane highway with two unbroken lines down the middle, it is normal to overtake, I know I did it while someone was overtaking a bus from the opposite direction. Hey, it worked for me.
3. Road directional signs
The place you are going to doesn't have a sign on the roadside. It is (a) nonexistent; (b) covered by spring growth; (c) the arrow has been vandalised; (d) it's only in traditional Greek which you don't understand; (e) it's tucked out of sight just down the road you were supposed to turn down.
4. Road maps
Ad. Article continues below.
They are not up-to-date, silly you for thinking they were. Towns that you expect to be on your right may be on your left. The spelling on the map does not correspond to the spelling on the road signs. (It was not uncommon for the English version to be spelt three different ways.) And just because you're experiencing wide two-lane bliss momentarily doesn't mean it won't be a tangled, cobbled one lane mess in the next village around the corner.
5. Pedestrians
Ignore them, they expect it, even when they're in the middle of a marked crossing. The exception is Greek mammas dressed in black in villages. They may walk out in front of you with their back turned; it's a sort of dare.
6. Speed limits
There are limits; hey, why didn't somebody tell me what those signs were? Besides, had I obeyed them I would have been run over, didn't want to risk that.
Ad. Article continues below.
7. Road work signs
They have road work signs? Someone forgot to tell them they're in the storeroom.
8. Care whilst driving
You mean you haven't tried driving along with your arm loosely swinging out the window or actively phoning a friend? If it's good enough for the police, then it's good enough for you!
9. Country roads
Around every corner there's a tractor, a very slow scooter, a herd of sheep or an unexpected nasty bump.
Are you an adventurous over-60 traveller with a story to tell? Drop us a line at the Travel at 60 Facebook page.