Christmas bells in the Blue Mountains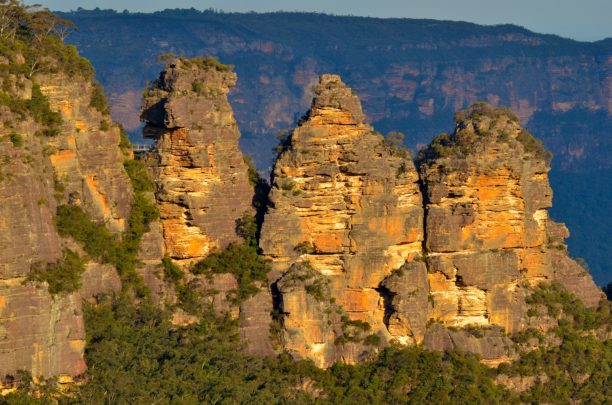 You could decorate a Christmas tree with the sweet, native bell flowers that flourish in the Blue Mountains of New South Wales. In fact, I have done this in my garden at Blackheath, using correas and apple berry blooms to adorn a little Lycopodium 'tree' that has its own waxy 'candles'.
Mind you, the only chimes of bells heard here in the mountains are from the secretive bell birds, feeding deep in the Grosse Valley. Well until now that is. Soon there will be a fine peal of six bells in St Hilda's Anglican Church at Katoomba. I have always felt a strong affection for this church. It reminds me of my old friend Hilda Lowe, who generously provided most of the ground covers in my garden. But I digress…
I was alerted to the new bells by an article in the Blue Mountains Gazette.
According to the Gazette, the oldest bell originally hung in a World War I military fort, located in the Humber Estuary, Leicestershire.
Four were cast in the United Kingdom and sent out by sea. The final bell was donated by a member of the Australia and New Zealand Association of Bell Ringers. When the article mentioned that all six would be on view before being installed in St Hilda's bell tower I made a quick trip to Katoomba.
Ad. Article continues below.
There they were, all lined up in their graduated sizes.
To my great joy we were welcomed to the the church by the newly appointed Bell Captain, whose name is (oh so appropriately)… Anne Bell! Anne is not too sure what her responsibilities will be, but she has signed up with other locals to learn the art of bell ringing. Apparently it takes about 12 months to become proficient.
The names engraved on the bells reflect the values of St Hilda's congregation; praise, grow, share, power, worship, love.
I love the fact that one bell was donated in memory of a World War I serviceman, who died at The Somme, August 25, 1918. RIP Driver J.F. Shepherd.
After the bells are installed there will be an inaugural peal to celebrate Christmas. Don't worry, an experienced team will be brought in. Thereafter there will be a ten minute peal on Sundays. On special occasions it is hoped that the church will receive council approval for a full peal, lasting about 90 minutes. One can only hope local residents enjoy the sound, unlike Midge Mather, an elderly resident of a small village in England called Compton Bassett.
Have you been to the Blue Mountains in New South Wales? Share your experience with us. Is there a place that you have a strong affection for, like Pauline? Tell us about it.