A guide to the Swiss city of Lucerne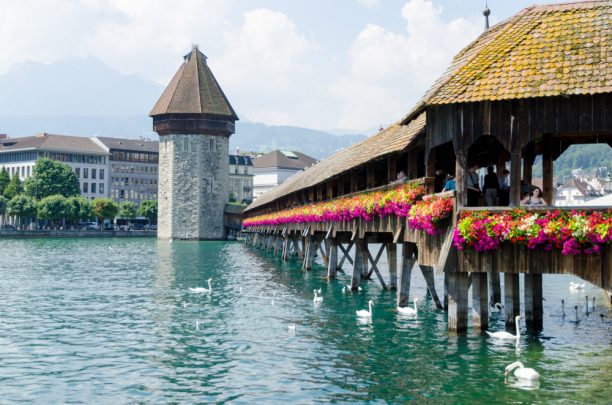 The beautiful city of Lucerne, in Switzerland, is surrounded by mountains, including the majestic Pilatus mountain which rises about 2128 metres above sea level. It is popular with hang-gliders, zip-liners, tobogganers, hikers and climbers. It's also good for a bit of a walk if you're not the sporty type.
Although you can approach the mountain from different towns and climb it in different ways, I chose to pay for the "Golden Round Trip" which involves a boat trip from Lucerne to Alpnachstad, a Cogwheel Train – the world's steepest with a gradient of 48 degrees, a cablecar, a panoramic gondola and finally a short bus ride.
There are two main summits, Tomlishorn on the east side, and Esel, which is close to the Cogwheel Train station. The views, on a clear day, are spectacular.
There are five clearly defined walking paths around the top of the mountain. I chose to take the path towards Tomlishorn which I think would be about 3kms there and back. There are a lot of rocky steps to negotiate, but it's worth climbing them to see the views.
As well as spectacular views I saw an Alphorn orchestra, curious capricorns, as well as an abundance of flowers. A vigorous walk deserves a reward so I took myself off to The Bellevue Self-service restaurant to eat a Swiss sausage. Although Bratwurst originated in Germany (according to the Germans), the Swiss make a version of their own with creamy milk, eggs and veal or pork. Mine came with onion gravy, potato rosti and an Eichhof beer, which is brewed in Lucerne.
Ad. Article continues below.
I rarely drink beer but have to say it was perfect with a Bratwurst on top of a Swiss mountain. The Bellevue Self-service restaurant was only one of the options for eating here. There is also a restaurant at the other hotel "Pilatus Kulm".
Heading down the mountain is easy. First you jump into a cablecar with 20 or so people, then you get into a 'Panoramic Gondola' on your own. The views, once again, are amazing but the initial drop and the bumpy bits over the steel supports are scary.
I saw lush green forests and meadows, happy cows with bells on, farms, an adventure park, toboggan track and, towards the bottom, Swiss homes and gardens.
The 'Golden Round Trip' includes the short public bus ride from Kriens, at the bottom of the valley, where the Gondola ride stops, back to Lucerne. Swiss public transport is excellent and buses always seem to arrive about a minute after you arrive at the bus stop. The number one will take you to the Bahnhoff (train station) where you can look back up at the majestic Pilatus and feel amazed that you were recently on top of it.
Have you visited Lucerne and the Swiss Alps? Let us know about your own experiences in the comments section below. 
This piece was contributed as a review by Karen Ross. To share your own travel experiences, click here.