A 6.6 magnitude earthquake rocks an already shaken Italy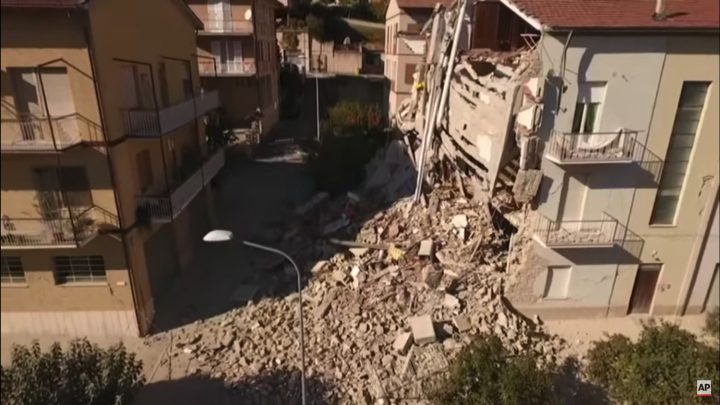 For the fourth time in three months, central Italy has been hit with an earthquake – this time a powerful one of 6.6 magnitude, believed to be the strongest since 1980. This quake has struck close to the same region where nearly 300 people had died due to the devastating earthquake that struck the area back in August. 
Read more: What to do if you experience a natural disaster on holiday
The quake struck at 7:41 a.m., with its epicentre near Norcia. It was felt as far away as Bolzano in northern Italy and Puglia in the south, according to Italian news reports. The medieval basilica of St Benedict in Norcia was among buildings destroyed.
This time no-one appears to have died, but about 20 people were injured. An evacuation of buildings in the region deemed vulnerable to seismic activity last week, following strong aftershocks from August's quake, may have saved lives.
Tremors from this latest earthquake were felt in the capital Rome, where the Metro system was shut down, and as far away as Venice in the north.
Ad. Article continues below.
According to Fabrizio Curcio, the head of the national civil protection agency, "It was an important earthquake." Helicopters were taking people to hospitals because some roads had been closed off, Mr. Curcio said. Search-and-rescue teams were converging on the area, he added, and mayors were verifying the conditions of residents in smaller hamlets.
As night fell, emergency teams worked to transfer residents of the stricken areas to temporary dormitories and hotels in outlying areas, overcoming the resistance of those who preferred to remain near their homes, Mr. Curcio said.
"It will be a difficult night," Mr. Curcio said after meeting with the mayor of Norcia, Nicola Alemanno, and Vasco Errani, the government's point man for the earthquake reconstruction program in Norcia.
Mr. Curcio said he hoped people would not spend the night in their cars or in makeshift camps and would opt for more stable accommodations. "There is no reason to suffer," he said.
Mr. Alemanno estimated that at least 3,000 residents of the town had been left homeless. Other mayors were still tallying numbers of those left homeless in their own towns.
Ad. Article continues below.
Mr. Errani, who was appointed after the August quake, said Sunday's earthquake had "changed the scenario, and even more the spirit and the soul of people," he said.
"We must remain calm to face the situation," he added.
At a news conference, Prime Minister Matteo Renzi vowed to rebuild damaged areas. "We will rebuild everything — homes, churches, businesses," he said.
The Italian government allocated 40 million euros, about $44 million, to the stricken zones after Wednesday's quakes, and on Sunday Mr. Renzi said more would be set aside to deal with the fresh damage. "We will broaden the crater zone so no town must fear it might be left out," he said.
"We can't give back a smile those who in this moment think they have lost everything," said Mr. Renzi, who noted that the earthquake had been felt by many Italians.
Ad. Article continues below.
He called on citizens to be strong and show solidarity. "Italy has its limitations and defects, but in these circumstances it gives the best of itself," he said.
See the video of his address below:
Have you visited a country that has been affected by a natural disaster?